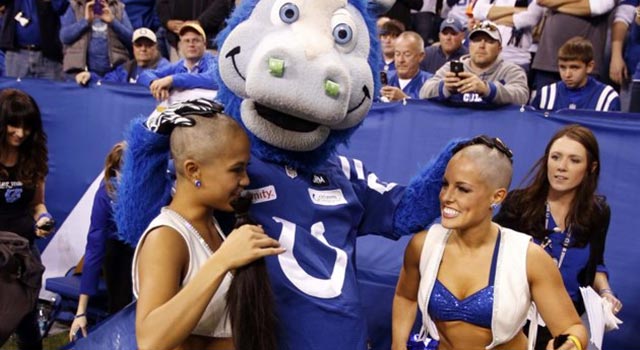 Megan and Crystal, Colts cheerleaders, were already two of the best looking women in professional sports, but now they're even more beautiful - and bald - after Sunday's game. To show support for Indianapolis head coach Chuck Pagano, who is undergoing chemotherapy, the two cheerleaders met a challenge from Colts' mascot Blue to raise $10,000 for "ChuckStrong" charities and shave their head. Megan and Crystal did even better than that, and raised $22,000 by November 25 to help fight leukemia and support Chuck.
Megan told local Indianapolis news stations she was not only inspired by Chuck, but by her volunteer work at IU's Riley Hospital for Children, where she volunteers with little girls without hair who fight and beat cancer multiple times; and Megan has become an inspiration of her own: after hearing their story, all Indianapolis area Great Clips offered to donate $10 to ChuckStrong for any customers who shave their heads, and over 800 fans have done so to date.
Check out the video below, and donate to ChuckStrong here.