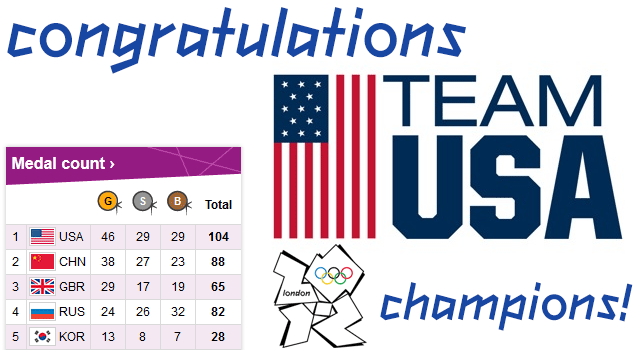 Even though we love the great stories from the Olympics no matter the nation, Bro Council Headquarters is still in the United States, so we're hometown fans of Team USA. And, thanks to our Olympians, we can proudly say that we're #1. Team USA is the official winner of the 2012 London Olympics medal count, and it doesn't matter how you rank the winners...we won every category.
For those of you who aren't aware, there was a little controversy at the 2008 Beijing Olympics about who truly won the medal count. While Team USA won the overall medal count by beating China with a total of 110 bronze, silver, and golds to China's 100, China captured the gold medal race by a score of 51 to 36. The standard for medal champions world-wide has generally been considered the most golds, but Team USA was quick to point out that they won more overall medals. This year they don't have to worry about that.
There are three ways you can rank overall medals:
Gold Medal Count - whoever wins the most gold medals is considered the champion.
Weighted Medal Count - there is a point value assigned for each medal type (three points for gold, two for silver, and one for bronze). The country with the most total points is the medal champion.
Overall Medal Count - add up the total medals, and the most medals wins.
This year, Team USA won all three of those medal races thanks to the performances of our Olympians. They knew that they came up short in the gold medal race last time, and they went so far as downloading medal-tracking apps for their phones to make sure there wasn't a repeat. That is exactly what Jordan Burroughs, a Team USA wrestler, did. "I wanted to be the guy who helped us out," said Burroughs, who won an Olympic gold medal. "Even though China makes all our clothes, they can't beat us in medals."
Team USA's total of 46 gold medals was the highest ever for them in an Olympics outside of the U.S. The American swimmers were the most dominant team in these Olympics with 31 medals overall and 16 golds.
Great job, Team USA!