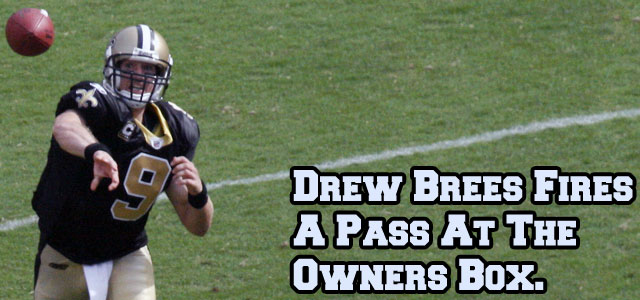 The New Orleans Saints put the franchise tag on Drew Brees, even though he said he didn't want the tag. Now what? Well, Drew Bree is apparently "livid" about it. Here's a New Orleans radio stations take on the situation:
"Drew Brees is livid about being franchise tagged and not receiving a long-term contract, according to WIST-AM in New Orleans. The radio station cites sources in the Brees camp that he will not sign the franchise tag deal. Brees and the Saints have until July 15 to hammer out a long-term deal."
The reason Brees is upset is because he will have to stay with the Saints for one year with a salary based on the five highest paid quarterbacks in the league. Based on the calculations on how they work out what "franchise" players are paid, he will, ahem, only make $14.4 million this year instead of the $16 million he would have made last year based on the way they work out the numbers.
There are two sides to this I'm going to look at them both:
Drew Brees' Side
I don't think the Saints should have put the tag on him if they knew it was going to cause this much of a headache. Although the NFL is a business, Drew Brees means more to the city of New Orleans and the Saints franchise than any other player. He came to the team during their horrendous streak of about 400 straight losing seasons, and led the franchise to Super Bowl glory and respectability.
The New Orleans Saints Side
The NFL is a business. As much as we all would love to see players retire with the teams that drafted them, and franchise heroes to retire as heroes, we just don't see it that often. Look at Brett Favre, Hines Ward, and maybe even Peyton Manning. The Saints have to do what's best for their team despite what feelings and emotions are involved.
The Saints can still work out a long term deal as long as it's signed before July 15. Hopefully they'll do that, it would be crazy to think of Drew Brees playing anywhere else. Not only from a football perspective, but from a personal perspective. Drew Brees seems like one of the "good guys" in the league, and he does extraordinary things for the city of New Orleans. Let's hope him and the team don't do anything to mess up that reputation.