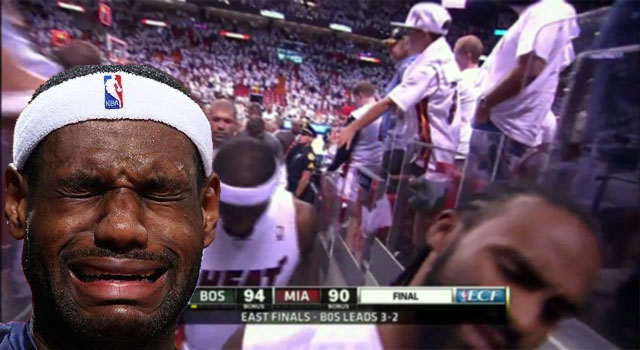 The Miami Heat had the Boston Celtics on the ropes in Game 5, and they could not bring it home. Thanks to Paul Pierce's clutch 3-pointer and LeBron James doing his standard playoff choke (sorry LeBron, we were nice to you last week), the Celtics are now up 3-2 and can put the game away at home on Thursday.
The fans were mostly silent as the cameras recorded the Heat going back to the locker room. Except one kid.
It was probably a young Miami fan trying to support his team, but I like to think it was some awesome little Celtics fan who decided to taunt the Heat the best way anybody knows how: by being overly nice. He continually, and loudly, shouted "good effort" and "good job" to the dejected Heat as they passed by him.
If he was being serious though, this kid should be putting out resumes to the Pittsburgh Pirates and Charlotte Bobcats. I am sure those teams would love someone to encourage them like this. Check out the video below: