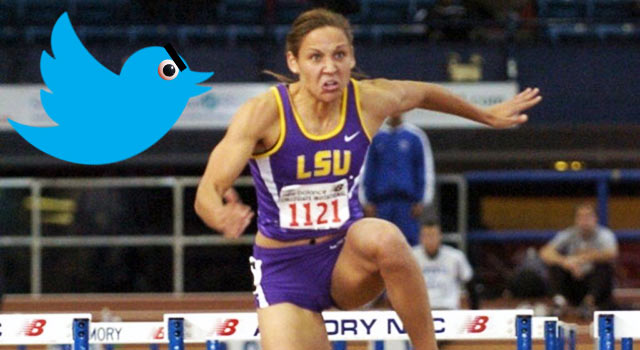 Lolo Jones seems to catch a lot of flack for a lot of the things she does. Occasionally those things are justified, but mostly they seem to be blown way out of proportion. Here is an example:
There is a young man named Eric LeGrand who played football at Rutgers. He was injured in a game versus Army and was paralyzed, and it has been all over the news. He was also an award winner at the ESPYS, and is frequently mentioned on ESPN. Last spring Greg Schiano, his former coach at Rutgers and current Tampa Bay Buccaneers head coach helped fulfill his lifelong dream of being in the NFL by signing him to a free agent contract. Oh, and he has a best selling book too. But apparently Lolo has never heard of this young man with a great sense of humor who challenged her to a race on Twitter, below is the aftermath: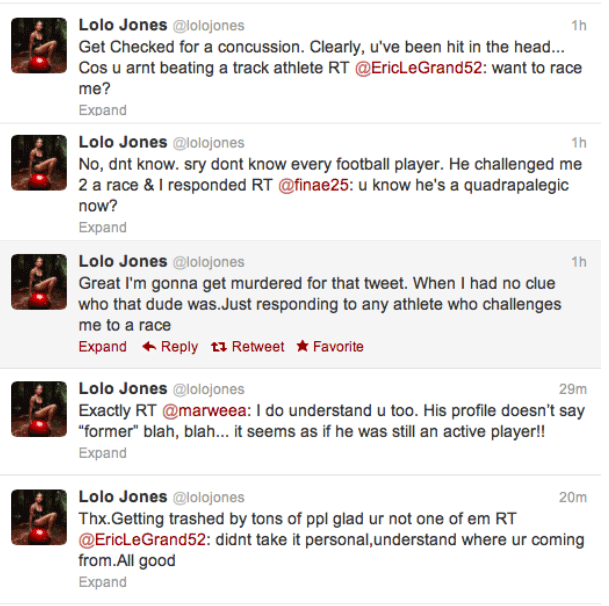 Now, we can completely understand the uproar over this if Lolo knew about LeGrand's condition, but the thing Lolo is guilty of here is ignorance to the news, not an attack on a quadriplegic as it's being portrayed in the Twitter-verse.
Lolo later told Yahoo Sports that she was "truly sorry if I offended anyone by my tweet," she continued, "When Eric challenged me to a race earlier all I knew was that he was a football player, but I certainly had no idea he had become paralyzed from a football injury. I thought I was tweeting in good fun like I always do with the many athletes that challenge me to races."