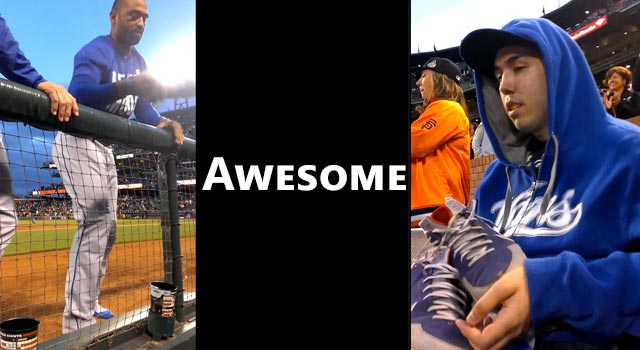 Matt Kemp recently did something very touching at a Los Angeles Dodgers game, giving his hat, jersey, shoes, and an autographed ball to a fan in attendance who is battling cancer. Here's the kicker: unlike a lot of charitable works by celebrities, there was no press conference, press release, or red carpet. This was just a genuine act of kindness that happened to be caught on film by a cell phone camera.
"I didn't know that anybody was filming it," said Kemp after the video went viral. "I wasn't aware."
The boy in the crowd, Joshua Jones, was sitting with his father at AT&T Park in San Francisco. Joshua was in a wheelchair, and his father had started a conversation with Dodgers third base coach Tim Wallach earlier in the game. He said that his son, who is unable to speak, was a Dodgers fan and his favorite player was Matt Kemp. Wallach told Kemp about Joshua, and after the final out of the game Kemp was waiting for Wallach in the dugout. He wanted to meet Joshua.
Not only did he meet him, but he decided on the spot to make it a moment that Joshua and his father would never forget. "It's just something I felt probably would have cheered him up a little bit," said Kemp. "I just saw a kid there that was a big fan, Hopefully, God-willing, a miracle happens and he lives for a while."
Check out the video below. It was a short moment in life, but it one that Joshua and his father will never forget.
"You have some good stories and some sad stories," Kemp said. "God puts them there to remind you."