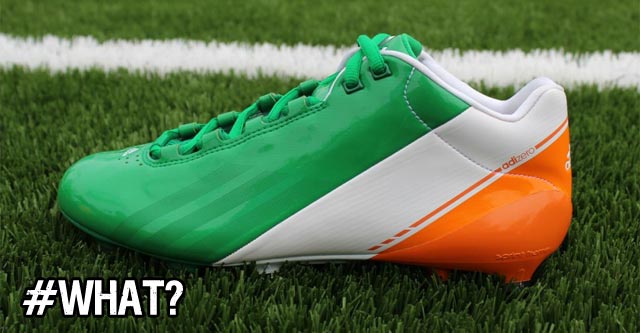 Love em' or hate em', the Oregon Ducks (and Nike) started the uniform revolution. Personally, I love some of the versions that they have. Although, I think it is at the point where you can start every football game for 4 years there and never wear the same combination.
I enjoy some of the other schools third uniforms. They can give big games a special feel, and when done right they are a great marketing tool for fans and recruits. When done right. (Take note Maryland, that was directed at you and the worst uniforms of all time.)
This coming season Notre Dame will be playing a regular season game in Ireland, so being that it is a big game they have gone out and purchased special shoes. Unfortunately, after they places their order with Adidas, this is what showed up:

I'm Irish and even I'm embarrassed.
[Images via @NDFBEquipment]