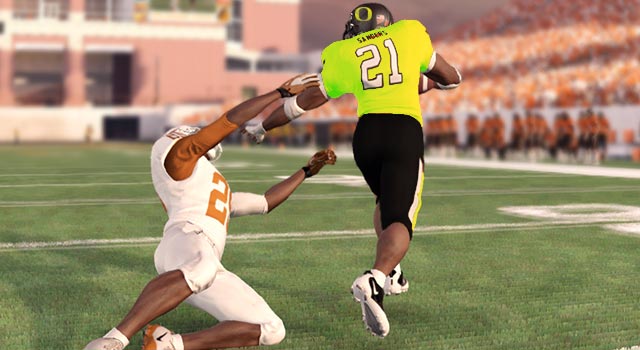 College football fans are getting used to seeing some pretty high scores, but the Oregon Ducks are racking up scores like you did when you played Madden against your little brother for practice. It's not even a moment of shock any more, it's just the Ducks being the Ducks each and every week. They routinely get the tops recruits as well, they lose one QB and an even better one steps in. LaMichael James heads to the NFL and they have De'Anthony Thomas coming in to put up numbers that make him look like Lamichaels looks pitiful. It's just not fair!
Well the rich keep getting richer and it appears next year will be no different. De'Anthony Thomas AKA The Black Mamba as he has been called since he was given the nickname in his pee-wee football days by coach Snoop Dogg, will be joined in the ducks backfield by Aloha (Oregon) High School running back Thomas Tyne. He is a 4 star recruit who is listed as the #6 high school running back in the country right now. It's no surprise that he wants to stay in state and play for one of the best, the big story is what he did last week.
You see he hit the X button a few times, turned the playing level down to rookie, and used Barry sanders against UTEP. He ran for 643 yards and 10 touchdowns. Read that again, 643 yards and 10 touchdowns. That's not a season total, but one game! Aloha won the game 84-63 over rival Lakeridge, and Tyne had this to say after the game:
(The video is a flash embed from OregonLive.com, so it isn't able to be played on most mobile devices.)
Nice work Thomas, looking forward to seeing you tearing it up at Oregon.