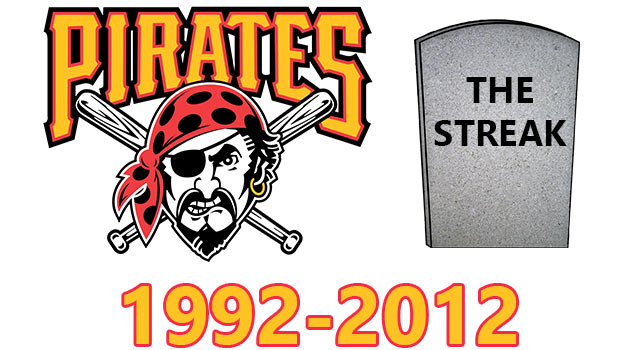 In 1992:
Microsoft released Windows 3.1
George H. W. Bush fell violently ill and threw up in the lap of the Japanese Prime minister
Boris Yeltsin announces that Russia will stop targeting cities of the United States and her allies with Nuclear Weapons
Miley Cyrus was born
Barney and Friends debuted on PBS
Bill Clinton was elected president
Aladdin was in theaters
Jeffrey Dahmer pleaded guilty
Johnny Carson retired from hosting The Tonight Show
"I'm Too Sexy" hit number one
Cartoon Network makes it's debut
Compact discs outsell audio-cassettes for the first time in the United States
...and the Pittsburgh Pirates enjoyed a winning baseball season
The world looks a lot different than it did in 1992, but we're glad that the Pirates are finally back to where they were in 1992. Let's celebrate with Pittsburgh today. After 20 years, the losing streak is over. Well done, guys!
For those who are Pirates fans, here's a video of Andrew McCutchen from ESPN's E:60 that will make you feel good about the next 5-10 years as well. The post-season isn't guaranteed yet, but it looks good. Make sure to check arethepiratesintheplayoffs.com to see when they are officially in the playoffs.