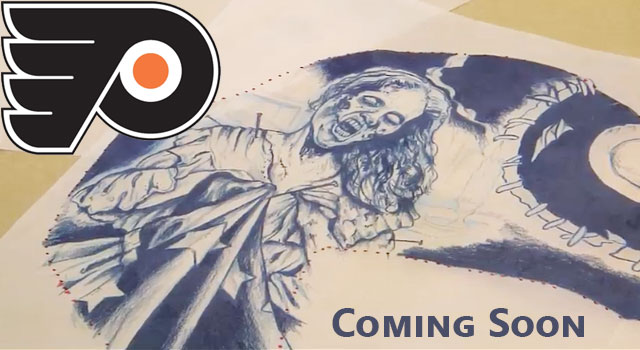 Steve Mason was acquired by the Philadelphia Flyers late last year to help with their never-ending goalie problems, so he didn't have time to get a proper mask painted. This year is different, and Mason wants to represent the City of Brotherly Love as well as his love of horror movies, so he decided to get American icons Ben Franklin and Betsy Ross painted on his helmet. The horror part? He decided to take a cue from the Walking Dead and make Franklin and Ross into zombies.
Awesome.
The mask isn't finished yet, but it's looking great so far. NHL.com decided to put up a video to showcase what goes into designing and painting a goalie mask, so we get a behind the scenes look into the process. Franny Drummond is the artist behind the mask, and we get to see his thought process. Here is his concept for the mask:
One side of the mask will feature a zombie form of Ross, the famed Revolutionary War-era seamstress, sewing an American flag while backlit by a lone candle and what Drummond called "an eerie fireplace" that leaves her with an orange glow. The other side will have zombie versions of Washington and Franklin, along with other zombies around the Liberty Bell and Independence Hall. Across the top will be a Flyers logo tweaked to go with the zombie motif.
Check out the video below to check out the work in progress.