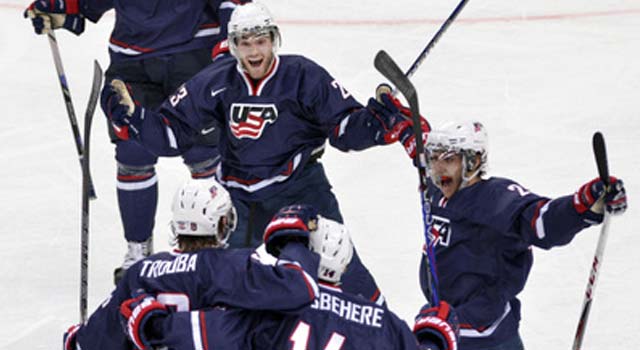 US hockey fans have something to celebrate despite the fact that the NHL still isn't done figuring out how to distribute their riches. Team USA has just won the gold medal at the World Junior Championships (WJC) for the third time in history. The Americans rolled through defending champion Sweden in Ufa, Russia on Saturday morning by a score of 3-1.
Goalie John Gibson, the Anaheim Ducks prospect who is from Pittsburgh, PA made 26 saves in the gold medal game and was named the MVP of the WJC after his great performance throughout the championships.
The group of players that won this gold medal also won the gold at the Under 17 and Under 18 tournaments. Now that they've won the gold at the Under 20 tournament, it's clear that USA hockey is on the rise.
One of the great things about Team USA is how divers its players are geographically. Rocco Grimaldi, who scored two goals in the gold medal game, is from Southern California, Gibson and forwards Vince Trocheck and JT Miller are from Pennsylvania, and defenseman Seth Jones was born in Plano, Texas and then moved to Denver.
Check out the video highlights below, as long as you're at you're computer. Sorry mobile users, NHL.com only allows flash embedding, which doesn't work on cell phones or most tablets. Luckily for you though you can check out a replay of the game if you have the NHL Network:
Fans can re-live the excitement from the 2013 IIHF World Junior championship all weekend on the NHL Network.

The United States' gold-medal game victory against Sweden can be seen at 8 p.m. ET and 11 p.m. ET on Saturday.

And on Sunday, NHL Network will replay every game in the American team's run to its third-ever World Junior Championship gold medal, starting at 8 a.m. ET.
Great job Team USA!