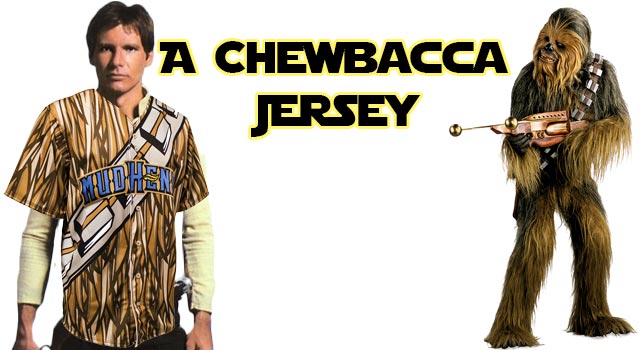 Minor leagues baseball is great for their low prices and incredible promotions as we have detailed before. And now, the minor leagues are finally giving legendary Star Wars hero Chewbacca his due with his very own jersey.
Yes, the Toledo Mud Hens will take to the field wearing a Chewbacca jersey, complete with bandolier and Wookie print this weekend.This is good to see since the "Big Three" of Luke Skywalker, Han Solo, and Princess Leia always seem to reap the merchandising rewards, while the most original of the bunch is left behind.
The Mud Hens are the Triple-A affiliate for the Detroit Tigers, and will wear the jerseys for their Star Wars themed weekend. The jerseys are in honor of two big Star Wars holidays: "May the Fourth Be With You" on May 4 and "Revenge of the Fifth" the next day.
Oh, and of course there is another reason behind the jerseys: after the games, the jerseys will be auctioned for charity. Well played, Chewie.