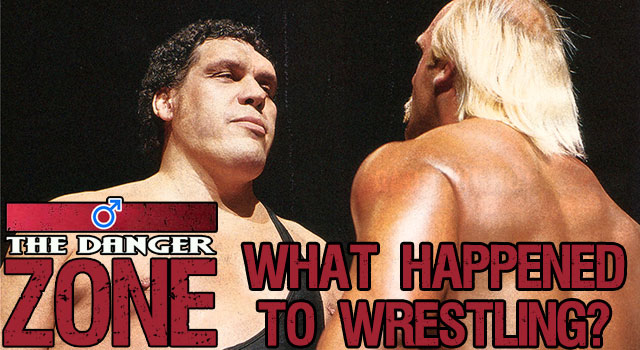 Falling in and out of love with watching men in shorts fake fight each other is a key part of any dude's journey from boy to guy, but the weird world of wrasslin' is still worth visiting. In The Danger Zone we are taking a weekly look at that world. For the first column, here's what you've missed if you haven't been watching since the days of Stone Cold, The Rock, and the nWo.
The ratings are down. A lot. In the late 1990's, Monday Night Raw's ratings were regularly between a 4.5 and 6.5. Today? Raw typically receives around a 3.0, and recently even experienced a 2.7 rating, one of the worst in decades. It's not going to get cancelled, but WWE officials seem pretty worried.
John Cena is the top face in the company. He's also the top heel. Even though he's been a good guy (face) since the early 2000's, John Cena receives more boos than anyone in the WWE. Why? It's simplifying quite a bit, but Cena's gimmick the last few years is basically Kurt Angle's – he's a boy scout, kind of a geek, always smiles, and believes in honesty, integrity, and intelligence hustle, loyalty, and respect – and he almost never loses, either in individual matches or in his feuds. On its own this might be tolerable, but since he's been on top for a decade now, older fans have grown to dislike how repetitive and juvenile his programs (feuds) are. As a result, you get stuff like this.
Most of the top guys are still around, but they're not on television each week. Stone Cold, The Rock, Triple H, Chris Jericho and Mick Foley all still make periodic appearances, but none of the superstars of the 90s wrestle night in and night out year round. Some of the WCW guys are with TNA now (Sting, Hulk Hogan, and Eric Bischoff are the most well known), but for the most part, hardly anyone from the 90s is still active, with Jeff Hardy, Bubba Dudley, and Kurt Angle being the most high-profile guys from the era who aren't currently with the WWE.
The Pay Per Views are crazy expensive. Really, they're like $55 plus fees. They typically serve as the climax of most storylines so they're more often than not worth seeing, but it's not too hard to find a bootleg stream online. If you're into that. Which we're obviously not. Obviously.
Goodbye Nitro, Hello Impact. WCW folded in 2001, but most of the talent eventually made its way to TNA (Impact Wrestling, Thursdays at 8 on Spike TV). The show was awful for a while, in large part because the company is run by the same people who drove WCW into the ground, but it's gotten pretty good lately. The wrestlers are generally younger guys with a handful of former WWE performers, and while parts of the show can be awful, they do have some legitimately talented performers, most notably Bobby Roode, James Storm, and AJ Styles. They also have an extremely talented if occasionally unfocused women's division that is actually their biggest success in terms of ratings, even though the performers tend to be treated as interchangeable.
Goodbye ECW, Hello Ring of Honor. ECW also folded in 2001, with most of the talent going to WWE or the independent wrestling scene. While it has no official ties to ECW, Ring of Honor currently occupies its niche as the top independent promotion in the United States. The performers are all very talented – most of the more talented guys in the WWE came from Ring of Honor – and the shows are good, but they aren't easy to see on television and the production values are pretty poor. It's still worth checking out, especially if you're a fan of fast-paced matches and great technical wrestling.
CM Punk is the World Champion and Sheamus is the World Heavyweight Champion. While Sheamus is a pretty talented if generic bruiser, Punk is the top guy in the company, at least in theory. He's a very talented performer who's kind of a cross between Jericho and Bret Hart, but he's become a bit of an afterthought lately while Monday Night Raw focuses on John Cena and current top heel John Laurinaitis (think Mr. McMahon crossed with the boss from Office Space).
It'll be worth watching this summer. The WWE tends to save big storylines for the summer, and this one will most likely be no different than the last few. No one knows what exactly is planned, but they usually don't disappoint around June and July each year. Baseball is the only sport that's on right now, and most summer programming is pretty weak, so there's no time like now to give it a shot.