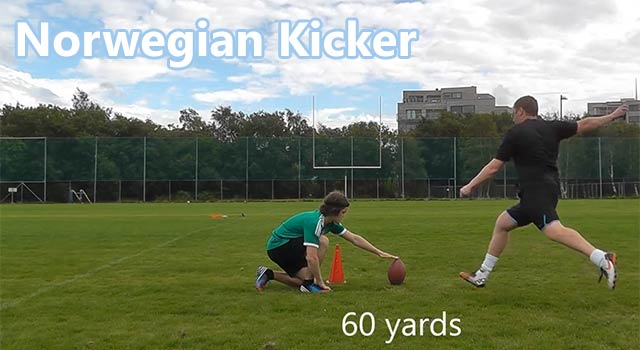 With the NFL playoffs beginning soon, it's safe to say there will probably be a game or two decided by a late field goal...we're looking at you Scott Norwood. Yeah, it's been 20 some years since Norwood's infamous misses, but his legacy lives on. This year there will surely be a few teams wishing they had a kicker named Havard Rugland from Norway. Rugland is an internet sensation, who posted a video on YouTube that shows the 27-year-old making some crazy kicks - nailing 60-yard field goals, making soccer-style scissor kicks, and hitting volleys with American footballs. He has already had a tryout with the New York Jets, so here's hoping for his sake that other teams give him a try out. No one should have to play there - that team is a bigger disaster than Sandy.
Rugland already has a kicking coach in former NFL'er Michael Husted. You can be trained by Husted too if you want, just go to HustedKicking.com. Yes, that's a real site.
"Havard's workout with the Jets when very well," said Husted. "They definitely see his potential. They understand that he has never played the game, but his leg strength impressed them. They would like him to continue to train and then they will bring him back in for another workout at the end of February."
The best part of the video? Rugland picked the Dropkick Murphy's for his background music. Nice work, Rugland. You're definitely Bro Council, Approved.
Check out the video below.