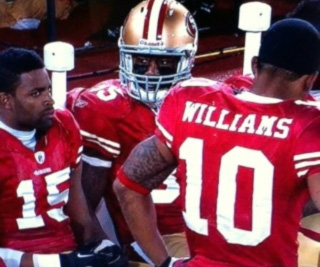 Michael Crabtree Stares Down Kyle Williams
Michael Crabtree was not happy after Kyle Williams fumbled the ball in overtime of the NFC CHampionship last weekend. You can tell by looking at the picture above and seeing where his eyes are glaring. You can also tell that his nose is snarling a little at Williams, and he's probably wondering what would have happened if Ted Ginn Jr., the regular punt returner, was able to play. I can imagine it now, something like "Gosh darn it Kyle. You didn't play so well but I still love you." Yeah, that's probably the words he was using in his head.
Anyway, apparently there are some rumors that the NY Giants were trying to knock Kyle Williams out of the game. Williams has a history of concussions, and after the game Giants linebacker Jacquian Williams, the guy who caused the overtime fumble, said this: "We knew he had four concussions, so our biggest thing was to take him out of the game." Not completely convicting, but here's what Justin Tuck said: "I don't think we've ever talked about knocking anybody out with concussions or anything like that, but it's not like we weren't trying to hit him. We were definitely trying to get a lot of hats on him because he might not have been as comfortable back there as say a Ted Ginn who had been there all year. But as far as trying to knock him out of the football game? No."
You "don't think" you had any of those conversations Justin? Just say yes or no, "don't think" usually means yes. Oh well, at least the 49ers were at home and their opponent couldn't rig the scoreboard like in some other games. Well, better luck next year Harbaugh Brothers.