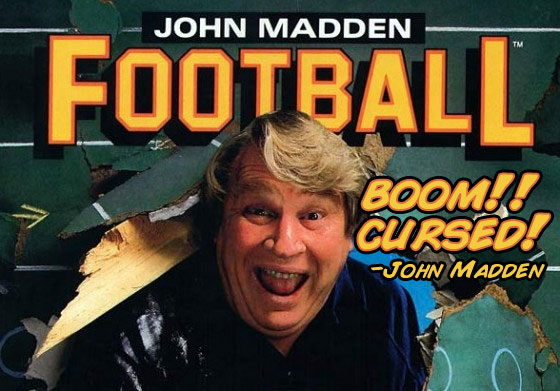 Madden is by far one of the most hyped and purchased sports games in history (Madden NFL 12 sold 1.4 million copies in its first week of distribution). There is a growing school of thought that the cover of Madden is cursed and that whomever is placed on the cover will suffer his worst statistical season, some sort of significant injury, or his career will take a nosedive. I'm not superstitious, but lets take a look at each cover athlete and how his season and even career was changed after being put on the cover, keeping in mind that the Madden cover year is one ahead of the actual NFL year.
2001 (NFL Year 2000) – Eddie George
Eddie George actually had one of his best statistical years in the NFL, but in the super bowl that year he had a critical fumble that arguably lost the game for the Titans. George's ensuing season was injury plagued and as a result he suffered his worst season ever as a pro.
2002 (NFL Year 2001) – Daunte Culpepper
Tragedy struck the franchise as lineman Corey Stringer died of a heat stroke in training camp. The team went on to finish 5-11 with Culpepper only starting 11 games that season, going 4-7. His statistics were average for him, and his team underperformed all season.
2003 (NFL Year 2002) – Marshall Faulk
After playing in the super bowl the previous season, the Rams hopes for a productive season were high heading into 2002. That was not to be as the Rams finished 7-9 and missed the playoffs. Faulk played in 14 games and only started 10. He never again reached 1,000 yards, and saw his games, starts, and touches all steadily decline until his retirement.
2004 (NFL Year 2003) – Michael Vick
Vick broke his leg in a pre-season game in August and didn't return until the season was out of reach. The Falcons finish 5-11.
2005 (NFL Year 2004) – Ray Lewis
Lewis broke his wrist, but only missed 1 game. His injury clearly plagued him throughout the season as he only had 1 sack, no interceptions and no forced fumbles. His stats were down from previous years all around and the Ravens went 9-7, missing the playoffs. An argument can be made that since Lewis played through his injury in 2004, the curse wasn't fully realized and that is why in 2005 he suffered a thigh injury, missing 10 games and having his worst season as a pro.
2006 (NFL Year 2005) – Donovan McNabb
McNabb suffered a sports hernia in week two, which hampered him until he was replaced for the season due to injury mid-game week 10. As the team was underperforming, the T.O. saga (starting in the pre-season, but trickling into the regular season) erupted, and the Eagles finished 6-10.
2007 (NFL Year 2006) – Shaun Alexander
After a record setting 2005 season, Alexander started off the 2006 season well, but broke his foot in week 3. He missed 6 games that season, not topping 1,000 yards for the first time in his career as a full time starter. His next season was even worse and he was released in the off-season of 2007. He played in 4 games for Washington in 2008 only generating 24 yards, the curse effectively ending his career
2008 (NFL Year 2007) – Vince Young
Young started the year strong, but injured his right quad and had to leave the game in week 6. He missed the next week as a starter, but started every game after. He was re-injured in Week 17 and replaced by Kerry Collins. The Titans made the post season for the first time since 2003, but Young had one of his worst games and Titans promptly exited the playoffs. The next season, much like Ray Lewis' follow-up curse season, Young only started 3 games, injured his knee and was permanently replaced by Collins. Young never fully recovered from these roster changes and was eventually released.
2009 (NFL Year 2008) – Brett Favre
This is the most unique madden cover in history, as it actually has Favre in the wrong jersey (EA provided an insert with the sale of the game containing the correct cover). Long after the cover was decided, Favre retired and then got reinstated and signed with the New York Jets in August. So the game has 2 covers, one with Favre in a Jets jersey and one with him in a Packers jersey. Favre's campaign in 2008 was less than brilliant resulting in a torn biceps mid-season and missing the playoffs finishing 9-7, with as many interceptions as touchdowns. He was released in the offseason and signed with the Vikings.
2010 (NFL Year 2009) – Troy Polamalu/Larry Fitzgerald
Polamalu injured his knee in week one and only played in 5 games that season due to the injury, recording his worst season ever as a pro. Fitzgerald on the other hand, had a great regular season statistically, catching a career high 13 TD's. However, Fitzgerald suffered a rib cartilage tear in November, which hampered his post season efforts and kept him out of the divisional round of the playoffs that the Cardinals eventually lost.
2011 (NFL Year 2010) – Drew Brees
Brees had a great season, and the team made the playoffs as a wild card. Because they were a wild card team, they played at Seattle, the only team with a losing record to make the playoffs in NFL history. The Saints were heavily favored to win a against a poor Seattle team, but ended up losing the game, which was more than disappointing. This isn't your typical Madden curse story line, but its hard to argue how an 11-5 super bowl defending team would lose to a 7-9 team.
2012 (NFL Year 2011) – Peyton Hillis
Injuries, illness, and contract disputes all contributed to Hillis' most unproductive season yet. He only played in 10 games, starting 9. His injuries and behavior now have the Browns contemplating releasing him, a far cry from arguably the leader of their offense in the 2010 season.
While one can always find facts to support their own predisposed opinions, and while I am in no way superstitious, the 12 cover athletes have certainly all had their share of difficulties only after appearing on the cover of Madden. Maybe its coincidence, maybe it's a curse, either way I can't imagine any NFL player would ever aspire to be on the cover of Madden.