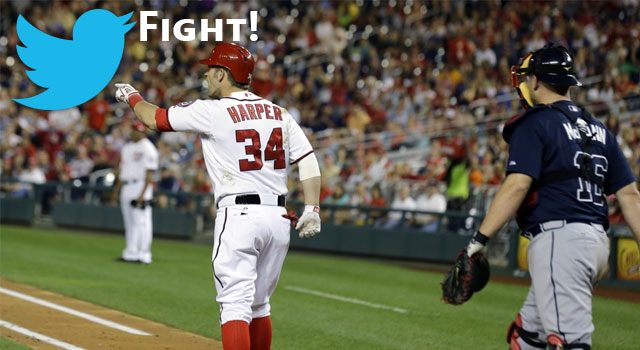 Looks like the Washington Nationals and Atlanta Braves saw our article about the Red Sox-Rays Twitter fight and decided to step up their Twitter game. At least, that's what we think happened.
The official Twitter feeds of the Braves and Nationals got in a scrum after Atlanta's Julio Teheran hit Washington's Bryce Harper with a pitch in the fifth inning.
In Harper's previous at-bat he had hit a home run off of Teheran. After the fifth inning hit, Harper was pretty upset and started mouthing off to Teheran.
After the game, the Braves adapted Harper's famous insult, "That's a clown question, bro," that he hurled at a reporter and tweeted this:
Clown move bro

— Atlanta Braves (@Braves) August 7, 2013
Then this happened:
@Braves Which part, giving up the home run, or drilling the 20-year-old on the first pitch his next time up?

— Washington Nationals (@Nationals) August 7, 2013
Burn.
After the game, Washington manager Davey Johnson implied that there may be more to come on the field between these two teams. When asked what you do about the hit he quipped:
You file it for future reference.
Round two?