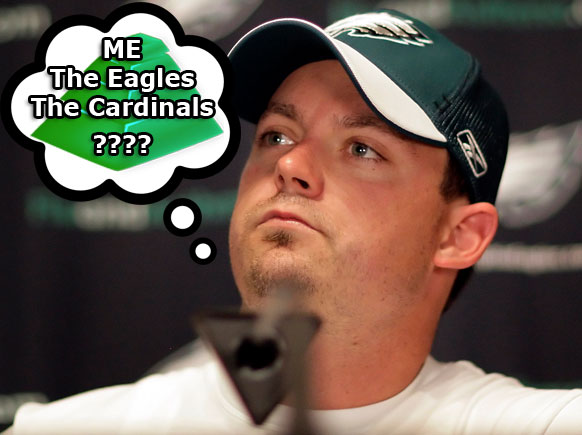 Kevin Kolb has to be one of the luckiest guys ever. He has parlayed every fan's favorite position in the NFL, the backup quarterback, into what will be 6 years of making over $12 million a year. But how did this happen? Is it really a pyramid scheme? Is Kevin Kolb even real, or another Keyser Söze? Let's look at the timeline and see:
2007
Kolb is drafted by Philly in the second round.
His totals for the year are 3 rushes for -2 yards.
That's it. He earned over a million dollars this year. Chump change compared to what was to come.
2008
Kolb sees extended action for the first time against Baltimore: throws an NFL record 108 yard interception, has a QB rating of 15.3, and ends the game with his first loss.
That's it. He earned another million dollars this year. Chump change compared to what was to come.
2009
Kolb plays in three games. The first one is a little bit of cleanup and doesn't count (even though he is sub-par in this one).
Game Two: he throws for 391 yards and 2 touchdowns, but he balances that out with three interceptions and a loss.
Game Three: the "breakout game". Kolb throws for 327 yards, 2 touchdowns, and 0 interceptions to lead the Eagles to a win. He now has one good game, one ok game, and one horrible game on his record.
That game was the third week of the season, and the fans clamor for Kolb for the rest of the year as he sits on the bench. Oh yeah, and Kolb earns another million dollars.
2010
Kolb gets the starting job in Philly in the off-season after the Eagles trade Donovan McNabb. He also gets a one-year, $12.25 million extension, and the title of "Mr. Contract". "Mr. Contract" is short for "What the heck did this guy do to earn a contract of that size? Are the Eagles crazy or are we all blind?"
Oh yeah, almost forgot...the Eagles sign Michael Vick to be a kick returner/running back/receiver/anything but a quarterback.
In the season opener, Kolb gets a concussion and is replaced...for the rest of the season. After a couple of good games, Michael Vick is declared the starter. At quarterback.
When Vick get's hurt, Kolb gets to show what he's capable of. He responds with season totals of a 76.1 rating with 7 touchdowns and 7 interceptions. Including a 37.0 rating with 3 interceptions and 1 touchdown in the final game of the season.
2011
Kolb get's traded to the Arizona Cardinals. He's brought in to appease mega-star Larry Fitzgerald (my pick for best WR in the league) and give him an opportunity to show what he's capable of.
Kolb get's a 5 year, contract worth almost $64 million.
Through six games, "Mr. Contract" is at a 78.8 rating with 7 touchdowns and 7 interceptions.
This puts him on pace to be just a little better than Derek Anderson was in 2010. (Funny side note - WR Steve Breaston had 2 passes, 1 completion, and 0 touchdowns in 2010 and had the highest QB rating on the Cardinals roster.)
Totals So Far: 5 years, $27 million dollars, no playoff victories, 18 touchdowns, and 21 interceptions.
Well done, Kevin Kolb...you've ripped off enough rich old white men to qualify as the new Bernie Madoff!