Did Brett Farve/Favre sign with the Falcons? Not yet...but maybe next year! What did happen though was that Brett was a rookie at one point and of course had some football cards made with his name and picture on them. Some of them are even spelled incorrectly like the 1991 Topps Stadium Club card on the left. It's hard to believe that he wasn't always on the brink of a retirement to the Pro Football Hall of Fame. In honor of his first full season of retirement, I wanted to showcase a couple of his best football cards.
If you've never collected football cards and don't know what the joy is in them, I'll just say this. As a kid growing up, it's pretty cool to be able to open up a pack of cards, not knowing who you are going to get, and to be able to own some of your favorite NFL'ers in action.
The problem is that card companies need to do things now to get people interested. It's not the same as it used to be, for example; I used to just look at the stats on the back of the card for hours learning the history of Nolan Ryan's pitching career and how many touchdowns Dan Marino threw, but now we have the internet so it's easy to look the most recent stats up. The pictures were always fun to see players who switched teams in their new gear, but we now have the internet so we can get all those pictures and a lot more. The fact that you could see some of the lesser known players on your teams was cool too, but now...yeah, you guessed it...the internet has more information than could ever fit on the back of a 3" by 2.5" card. So what do football cards have to offer now?
Jerseys and autographs.
What? Yeah, you read that right. If you haven't collected football cards in a while you're missing out. Card companies today are putting actual pieces of jerseys of current and former NFL stars onto cards that are randomly inserted into packs. Pretty cool stuff...I still want a Jim Thorpe game used jacket card. That's just awesome.
Check out some more Favre rookies, his most valuable, and my favorite card of his to see what I'm talking about.
1991 Wild Card 1000 Stripe #119 - Most Valuable
Although it came from a random and not well respected company, the Wild Card 1000 Stripe is probably Brett's most expensive card and one of the most sought after cards in the modern era of football card collecting. What makes it so expensive? The stripes. Wild Card produced a decreasing number of each card based on how many "stripes" they had. It's estimated that the 1000 stripe Favre card may have as low as 10 total produced. So what's it worth? Although it usually sells for around $1,250 to $1,750, one of them sold on eBay for $2,500 in the Spring of 2009. Check your attics!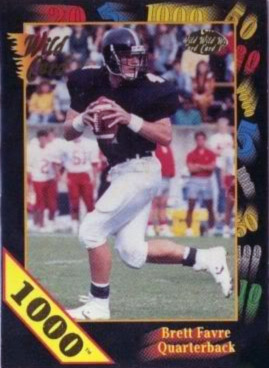 2003 Upper Deck Ultimate Collection Brett Favre and Bart Starr Dual Jersey and Autograph - Ray's Favorite
Two of the three greatest Packer's quarterbacks in history, and two of the best all-time on one card is cool enough. Add in the fact that there are pieces of their jerseys and they have both handled the card since they signed it right on the cardboard (instead of the lame stickers of autographs that sometimes get put on cards today) and you have a sweet piece of history. For my next birthday, you now have a gift idea. The card sells for $200-$400.
Brett Favre/Farve Rookies
These are some of the other rookies of Brett. I actually own a Wild Card "stripe" card...too bad my stripe is only a 5 - that's valued at about $4. Oh well, check out eBay to collect all these and more for yourself.