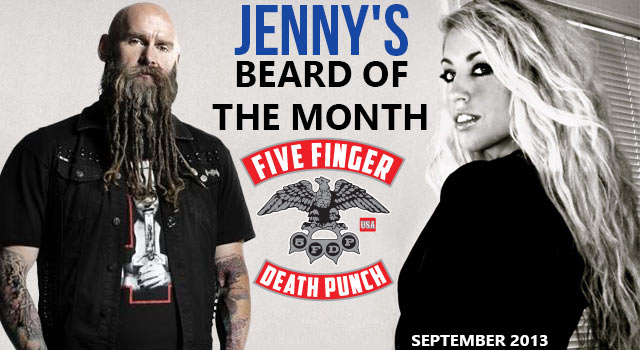 Beard Of The Month - September 2013 - Chris Kael from the metal band Five Finger Death Punch (5FDP)

September is here! And we have one chilling beard this month! Meet Mr. September, Chris Kael! You may know him and THE beard from the metal band FIVE FINGER DEATH PUNCH! Chris and his beard joined the band as their bassist in 2011. They spend their days on stage with the likes of Rob Zombie, Trivium, Killswitch Engage and recording songs with Rob Halford of Judas Priest!
Not only is Chris an amazing musician and beardsman, but he is extremely genuine. How many musicians who are touring around the world keep in touch with their fans? He makes it a point and it's appreciated as a fan, so thank you! If you haven't already, check out Five Finger Death Punch online!
Keep reading to learn more about Chris and his beard!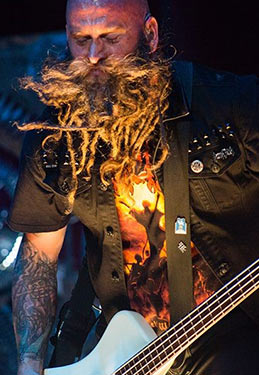 Name: Chris Kael
Age: 39
What is the best thing that has happened to you since joining 5FDP?: Having the platform to positively affect more lives than I ever could have previously imagined. That and opening up for KISS three times in Europe. That wasn't too damn shabby either.
How long have you been growing your beard?: I've had a beard for as long as I can remember; but, this particular growth has been a little over two years. From business professional, to this beast in just over two years.
Why are you growing your beard?: Simply because I can.
What is the best compliment your beard has received?: My favorite compliment I get and it's one that I get quite often is simply, "G**damn!"
Have you ever been to a beard competition?: I have been to a beard competition in Vegas; but, I didn't compete. It's more about The Brotherhood of the Beard for me than a competition. I am, in fact, very happy to have the beard I've got; but, I don't see the need to enter it into a competition. It's here for myself and others to enjoy and that's good enough for me.
Is shaving anywhere in your future (we hope not)?: Only my head. Never my face. That's right - I said "never."
Any big tours happening/coming up? Where can we see you in the near future?: Well, we just released "The Wrong Side of Heaven and The Righteous Side of Hell Volume One" a few weeks ago. Volume 2 comes out in November. So, we'll be touring quite heavily for at least the next 18 months or so. I'm actually in Palm Springs right now rehearsing for the first leg of "The Wrong Side of Heaven Tour" which starts September 15th in Sacramento at The Aftershock Festival. It's going to take us all across North America. Then, in November, we head over to Europe with Avenged Sevenfold. All of our tour dates can be found over at www.fivefingerdeathpunch.com/tour.
If you could give any advice to a large group of people about life, what would it be?: Follow your inner voice. It speaks volumes. Sometimes, it takes a bit to slow down, block out all the excess chatter and focus on that voice; but, it's there. It will always guide you in the right direction. Listen to it.

Congratulations to Chris, our September 2013 Beard Of The Month! If you are interested in throwing your own beard in the ring, contact us here. You can check out our other Beards of the Month here.