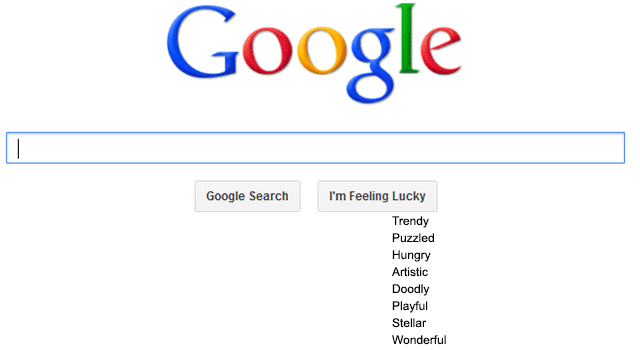 If you're like most people, when you do a search on Google it's usually through the search box in your web browser. If you've never gone to the Google home page you might not have seen the "I'm Feeling Lucky" button. When you type a search in the box and click "I'm Feeling Lucky" you are immediately taken to the first search result and you skip the Google search result page. The original ideas was to be humorous and add something fun to the home page. The problem for Google is now that they're a massive company and rely on advertising for profit, they are losing out on revenue.
Because you skip the search results page, they don't get to serve up advertising. In a radio interview with Marketplace, Google co-founder Sergey Brin said that around one percent of all Google searches are done using the "I'm Feeling Lucky" button. If you do some quick math based on their revenue, that 1% of search revenue that is lost can cost the company around $110 million in revenue per year. Google was asked why they keep it around and they responded "It's possible to become too dry, too corporate, too much about making money. I think what's delightful about 'I'm Feeling Lucky' is that it reminds you there are real people here," said former Google executive and current Yahoo CEO Marissa Mayer.
Starting today though, Google gets to keep a fun atmosphere and redirect people to their services. If you move your mouse cursor over the "I'm Feeling Lucky" button, the text will automatically change to other options and direct you to other Google services like restaurant info, Google Doodles, and their daily puzzle. Here is what the Official Google Blog had to say:
Yesterday, we asked you how you're feeling and by far, the most popular answer was "hungry"! What does this have to do with Google Search, you ask? We recently added some other emotions to our I'm Feeling Lucky button, like artistic, wonderful, and of course, hungry. When you hover over the I'm Feeling Lucky button, it spins to an emotion and clicking on it connects you to a page that reflects that emotion. For instance, I'm Feeling Hungry leads you to a Google results page for restaurants in your area. Bon appetit!
This is a great way for Google to keep the "fun" and yet add even more ways to keep people on Google.com for their searches. Nice work, marketing team. Nice work.