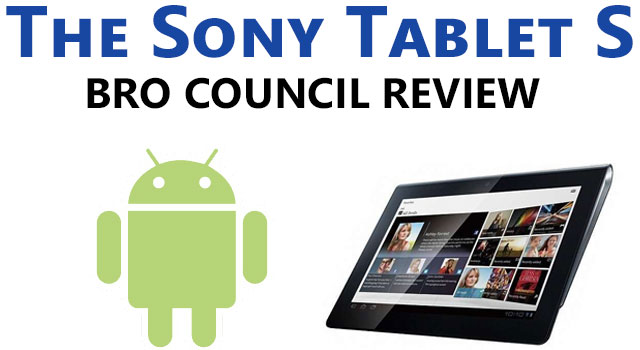 Intro
The Tablet S is a new Android tablet from Sony and there are a few features that set it apart from the other 45 or so Android tablets out there. What are they? Read on to find out.
The Specs
Dimensions: 9.50 x 6.86 x 0.40
Weight: 21.09 oz (598 g)
9.40-inch (capacitive) display (1280 x 800)
5000mAh battery
Android 3.1 (Honeycomb)
Dual-core NVIDIA Tegra 2 1GHz processor
5-megapixel camera (rear)
0.3-megapixel camera (front)
32GB built-in memory
SD-SDHC hard slot (up to 32GB)
Bluetooth v2.1
Wi-Fi
MicroUSB port
Performance and Design
The Tablet S is a fast performer. Although the Android operating system sometimes gets bogged down even with a faster processor, the Tablet S flew through all of the tasks we challenged it with. The only noticeable lag came with the browser refresh rate. Occasionally the pages wouldn't refresh consistently as we scrolled through a page. It wasn't a deal-killer, but it did detract from the web experience slightly.
The tablet itself feels sturdy, the speaker is relatively loud, and the expandable options are nice with the USB port and memory card slot. The ergonomics of it are great - the edges are tapered, and it feels very natural in my hands.
Screen
After using both the iPad 2 and the Sony Tablet S, I give the nod on the screen to the Sony. It's vibrant, has good dark tones, and is very crisp. The only drawback is that it has a very shiny coating that loves fingerprints. Make sure you keep a polishing rag around so you don't get annoyed.
Cameras
Although the camera on a tablet seem superfluous sometimes (since it's difficult to carry around a 9.4 inch screen in the back of your jeans for when the perfect photo-op comes along) it's still a necessity. Again, the Sony shines here as it has the best quality rear camera of any tablet I have used before. The front camera is serviceable for Skype and quick recording, and that's the one that most people will use more often.
Software
It's no secret that I'm not a big fan of Android, and I don't hide that. I was pleasantly surprised with this version of Android though. The Tablet S comes with 3.1 installed out of the box, but with a quick update you'll have 3.2 running in no time.
Here are some highlights of the software:
Crash Bandicoot comes with this tablet. That's one of the cool things that sets this tablet apart - PlayStation 1 titles are playable. Unfortunately, the controls are ridiculously hard to use without the additional controller add-on you can buy. Oh, and the graphics look just as good as you would expect from a 15 year old video game.

Facebook is bare bones, and somewhat acceptable. There's not much to review - just look at the screen shot. It's an up-scaled Android phone app. Seriously...that's an actual screen-shot.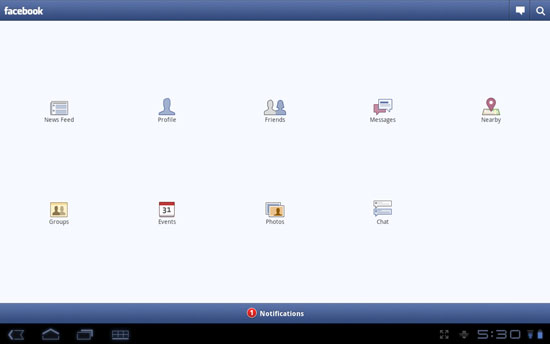 Google Maps works really well, and if you have a wireless hot-spot to pair this with it would be a great replacement for a GPS in your car. Layers lets you add traffic, destinations, and more over top of your current route.

Music Unlimited by Sony wasn't ready yet and Video Unlimited only had 5 (yes, 5) titles on it. And two of those were chick flicks. Again, that's an actual screen-shot.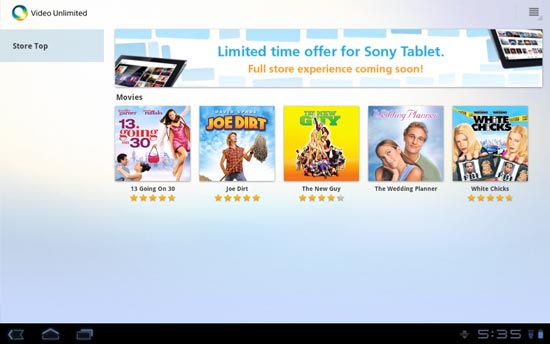 Oh, and Angry Birds is here too, you addict.

The remote is the most practical add on that you won't find on most other tablets. It's easy to set up and once you're connected you can control all of your home theater equipment easily.

Overall the software options are broad and the Tegra 2 is a worthy processor for this machine. If you like Android, you'll like this experience.
Pricing
The tablet runs $499 for the 16GB version, and $599 for the 32GB. But don't fear if that's too high - Amazon.com has the 16GB version for $498.98 this week
. That's a savings of a whopping $1.01 - but you do get free shipping and no tax.
Wrap-Up and Video
Good job, Sony. You've taken an Android skeptic and turned me into....well, less of a skeptic. I'm still not sold on Android, but this tablet makes me want to like it. I like the ergonomic grip, the remote control app, the general responsiveness of the tablet, and the nice addition of Crash Bandicoot. If you're looking for a tablet and hate the iPad (and can't wait for Windows 8), this is a great option for you. Check out the video review below for a more in-depth look at the features.
The Sony Tablet S - Bro Council, Approved.