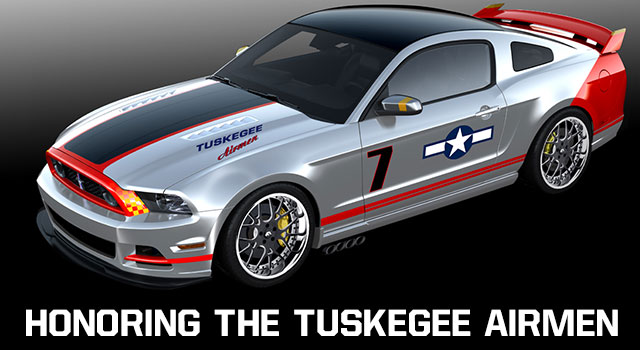 When I saw this car I gasped with excitement. Ford has done special editions of their signature vehicles for the Oshkosh Wisconsin Airshow's charity auction the past several years, and this year was no different.
For those of you who haven't picked up a history book in a while, the "Red Tails" were the US Army Air Corps first African American fighter squadron in World War II. They were given the name for the all-red painted tail sections of their P-51 Mustang planes. They did this so there was no mistaking who was protecting those bombers over Europe during over 1,500 missions. Their story of sacrifice, standing up to racism, and their exceptional battle records speak for themselves.
This Mustang is amazing. My only problem is the actual "Red Tails" logo embroidered on the seats. It is not their actual squadron logo but instead is the one from the movie. I really wanted to like that movie, however only the special effects could really be recommended. The acting was some of the worst I'd ever seen. So please take the time pick up a book or two about them, or watch the older HBO movie called "The Tuskegee Airmen" to really see it done well, and to honor those brave men who battled racism and the axis powers. The movie is available on Blu-Ray or DVD (and the DVD is under $6).
Even better? The car will be auctioned off this week to benefit the EAA Young Eagles organization.
Partial List of Modifications and Add-ons
(Check the link below for a full list and more pictures)
Super Charger Pack
Quad Exhaust System from SVT
Exhaust Pipes - Quad Side
Brembo Brake Package from SVT
Boss Grill with Removable lamp covers
Forgiotto 20 Aftermarket Wheels
Boss Rear Spoiler
Boss Steering Wheel
Recaro Seats with Red Tails Logo
Tri-Color Seat belts with Tuskegee Airmen Embroidered
Floor Mats with 332nd Fighter Group logo
Nice work, Ford. The Red Tails Mustang is definitely Bro Council, Approved.
[Link - Ford Air Venture]