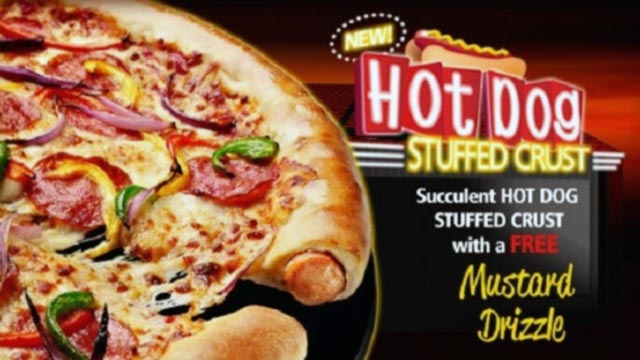 I'm trying to eat healthy for the first time in my life, and Kristin and Pat really like to make fun of me because of it. I'd like to point out that although I have been eating foods that are better for you, I'll still take anyone on in a wing eating contest. And tonight I'm having some friends over for Tequila Meatballs, and I'm looking forward to trying this next pile of greasy greatness when it comes to the States: the Pizza Hut Hot Dog Stuffed Crust Pizza.
Maybe they're just trying to top Taco Bell's Dorito Tacos, but regardless, this thing looks both awesome and disgusting. I don't even like Pizza Hut pizza, and I this thing is now on my bucket list. This is an idea that is so wrong, it's just feels right. It's like a corn dog at the end of every slice of pizza. Nice work Pizza Hut! Now if you could just add funnel cake and Mt. Dew in the recipe somehow, this thing would be the perfect food.
The Dorito's Taco Loco's were pretty disappointing, since there wasn't much flavor. But this thing? Just look at it. It has to be awesome not only for it's flavor, but as a food engineering marvel.
And a free "mustard drizzle"? Great deal!
Too bad it's only in the UK. For now.