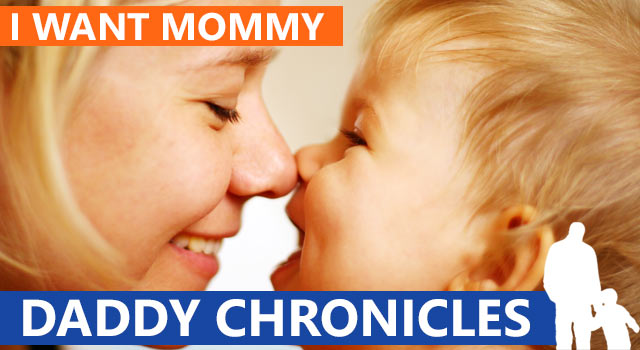 In our continuing series, our own Marv Nelson takes a look at what it takes to be a father - #DaddyLife
As a Daddy, I face rejection every day of my life. I know it's really sad, but honestly very true. I wake up in the morning hoping that this reality will be different, with very depressing results.
My son is the one who usually begins my rejection, not late in the day either; it is always the first thing in the morning. He comes into our room, declaring loudly it is time to get up and goes directly to his mother's side of the bed. He gets all lovey and starts kissing her face and being the sweetest little gentlemen there is…he does a better job most mornings treating her right than I do (sad to say). Yet, when I ask for some cuddles or kisses, he outright denies my requests. He doesn't even give me a peck on the hand. He declares: "No! I want Mommy cuddles!"
OK I guess, I get by on this one hope I tell myself: "maybe when my little peanut gets up, she'll want me! She will give me some cuddles!" Shortly after I convince myself of this fact, I hear my darling little princess waking up. "It's time to get my cuddles!" I walk into the room, declaring my love for my sweet princess telling her how beautiful and wonderful she is. As soon as I scoop her up into my arms, I kiss her. She doesn't so much as give me a "lean" hug before she declares "MOMMY!" She's very serious looking and her tiny little finger is pointing at the door. Her body language is as clear as her verbal language, saying in essence: "Fool! I don't want you! If I was calling your name it's just because I knew you'd fall for it and take me to my mommy!"
Well, I've now been awake for a maximum of about 30 minutes and have been deeply rejected by my lovely children. My hopes of love and affection turn back to my little guy. Now that my princess desires to cuddle mommy there is no way, he will reject me now. Who wants to share one person for a two-person cuddle time? No one, right? Wrong. He demands to share cuddles, and there in my queen size bed is a whole half of a bed I get to myself and the other half filled with 3 human bodies. I even share this information with my sweet kiddos saying "Daddy's got room! Come cuddle your daddy!" My darling wife; underneath her now pile of child, desires relief too and shares the joys of cuddling with Daddy. Neither of them takes the bait. I get rejected again.
Luckily, Daddy gets ready faster than mommy, so I get to whisk the kiddos downstairs, dress and feed them…maybe now I can get some hugs and kisses from my kids! I quickly get ready, get them dressed, give them their favorite juice and foods in the morning, hoping now will be my time for some loving. Hopes that again get dashed when little man wants to watch Power Rangers or some other goofy weird show and Amelia declares her desire for Mommy once again and she walks over to the bottom of the stairs and begins to yell up the stairs or her mommy.
Sprinkled into the evening I do get a tiny glimpse of love and affection, but as a Daddy, I face rejection every day of my life. Sure, it hurts but I hear things turn around in the end. My brother-in-law just the other days said: "I used to be a Mamma's kid too…but then I switched and I'm a Daddy's kid now! Don't worry Marvin, it will change." So, I sit here, typing this with the glimmer of hope in my eyes! Mommy may get all the affection now…but one day I'm gonna get some too!
So, Daddy's, remember, rejection now may mean some super big time love later. Keep your heads up, keep loving your wife with all ya' got and always give every ounce of affection you have to your kids! Even if you don't get repaid in affection now…your day is coming!
Check Out The Other Daddy Columns Here:
Intro - You Knocked Her Up - Your Baby At Week One - The Grief Of A Child - Leaving A Legacy - Surprises - The Hard Times - Vacation Car Ride - The Dreaded Nap