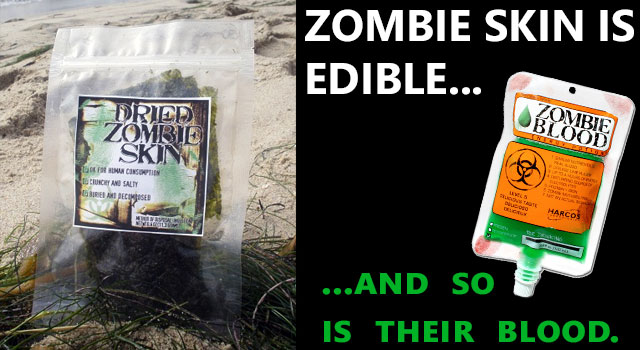 It's no secret that we're big fans of zombies here at Bro Council. We love The Walking Dead, we've told you where to go when they start to attack, and we're looking forward to the day that Christopher Walken becomes a zombie.
There is only one problem with zombies, if (when) a real apocalypse happens, they are going to eat us. Now, thanks to a company called Harcos Labs we can turn the table on the un-dead. Harcos has made a line of zombie treats like these:
Zombie Jerky - Zombie Jerky is a delicious, slimy, green beef jerky made from 100% real zombies (or cows as some people call them) and boasts a delicious "teriyucky" (teriyaki) flavor.
Zombie Blood - The world's first synthetic zombie blood has a tangy lime flavor and packs up to 4 hours of un-dead energy. Zombie Blood has the same green look and slimy feel as the real thing.
Crunchy Zombie Toenails - When lounging around or searching for zombies to kill, this crunchy 2 oz snack will keep your hunger under control.
Dried Zombie Skin - Through years of decay from being buried in the ground, this crunchy product is bound to satisfy even the most discriminating Zombie lover.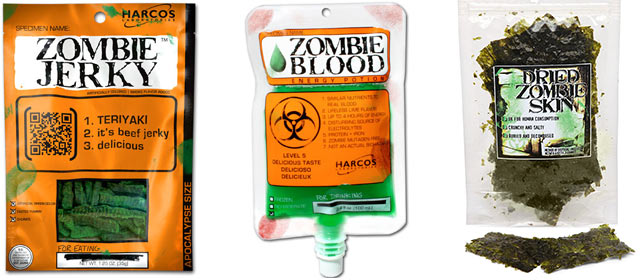 So now, when you're jonesing for some meat, why not help control the zombie population and eat some of this stuff?
You can check out the rest of their zombie products here.