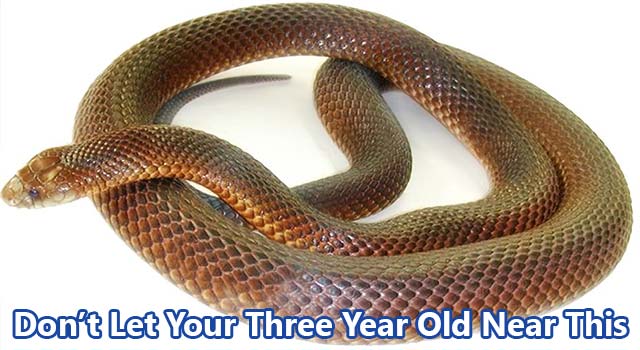 Here's a story that will make your skin crawl. From our friends in Australia comes the story of Kyle Cummings who is from Townsville, Queensland. Kyle is three years old, and like most kids that age he loves to explore and bring home some of the treasures he finds. On his most recent treasure hunt, Kyle found a stash of eggs so he gathered them up and brought them home. His mother, who is probably freebasing Xanax now, discovered the container and the contents posed a problem. Those "treasures" hatched and contained 7 eastern brown snakes - the second deadliest snake in the world. These are the same snakes that even a Bro Council hero like Mike Rowe from Dirty Jobs got a tad nervous with. According to the BBC:
The reptiles were only 12-15cm long, according to Trish Prendergast of North Queensland Wildlife Care, who released the snakes.

"Their fangs are only a few millimetres long at that age, so they probably couldn't break the skin, but they're just as venomous as full-grown snakes," she told the Associated Press news agency.
Lucky for little Kyle and his family, no one was hurt. I'm sure there will be more scares in the Cummings household though since they live in Australia, and Australia is full of deadly animals. Don't believe us? Check out the video below.
[Source - BBC]