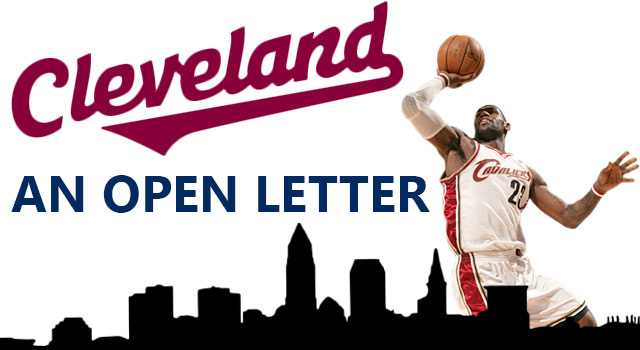 Editor's Note: This article originally ran on 6/14/2014 when LeBron signed with Cleveland. Congratulations on your finals appearance, Cavaliers!
July 14, 2014
Dear Cleveland,
I'm a few years younger than LeBron, but have been a fan since his St. V days, having the privilege of watching a once-in-a-generation talent play a local high school team in the Roundball Classic. I remember watching his offensive efficiency on display at age 17. I remember the moments of extreme athleticism, including a chase down block of an unsuspecting opponent culminating in a pin off the glass…with his elbows. I remember staying up late to watch his first game in Sacramento, then getting to the brink of fighting with friends the next day when we argued at lunch over his eventual place in NBA history. I remember the 60+ win teams in Cleveland. I remember the 48-special.
I remember the Decision, too. I just experienced it differently.
You see, when LeBron left for Miami, I watched from the outside and couldn't understand the fans' reactions, which in hindsight is silly. True confession: I'm a Pittsburgh-lifer. That means that I should have understood. I understand living in a city where civic pride is so tied up in sports teams, where collective malaise from fan letdowns get magnified in an area where summers are too short and winters are too cold.
My wife and I have tried to come to a game a year in Cleveland in the days since LeBron left, more so because we both are NBA fans than anything else. Even from an impartial observer, I remember us both commenting in the stands at just how great of fans you guys are for your teams. I'd love to be that loyal to a sports franchise. We've frequented Parnell's for pre-game meals, and walked around the city, marveling at the similarities to our home 90 short miles away.
When LeBron left, I admit that I left, too. I didn't care what happened to the Cavs franchise, and cared only what ramifications were for the rest of the league. With LeBron coming back, I'd like to see you guys succeed. I recognize that this makes me a bandwagon jumper and a mercenary that you all have come to dislike. As I said earlier, I admire your loyalty, even as I recognize the utter dearth of my own.
These fleeting moments of captivation by a single event are why I love sports. Civic pride is a wonderful thing, and after befriending a Cavs lifer in recent years, I'm starting to get your collective anguish for the last few years. At the same time, I marvel at your willingness to forgive and move on, and just how much you CARE. Listening to local sports radio yesterday, the collective emotion was gripping, with perspectives on the impact of the return exceeding sports, and spilling over to economic lifts and benefits for the populous.
So congratulations, Cleveland. You're once again in a position of basketball power and relevance, with all the spoils that accompany it. I know I'll not experience what comes next the way that you will, but I hope that you'll let me enjoy and root alongside of you all. You deserve a parade, hopefully as soon as next June with Mr. O'Brien.
Sincerely,