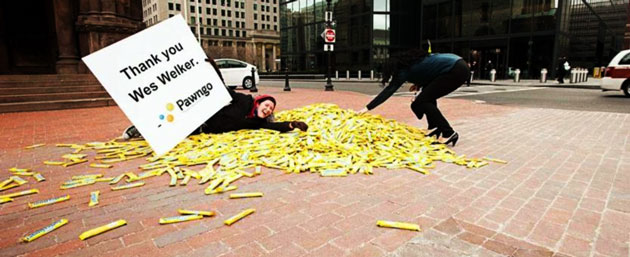 Hey, the Patriot's lost on Sunday. You know what Bro Council isn't going to do to win over the readers in Boston? Make fun of Wes Welker. Plus, he seems like a good dude.
You know who doesn't subscribe to that theory of thinking? Pawngo.com, an online pawn shop that launched last year. The company is based out of Denver and sent over 8,000 Butterfinger candy bars to Boston to promote their company. Send candy to the upset citizens of Bean Town. Good idea right? Nope. The problem is that they included a sign that said "Thank You Wes Welker" with the candy.
The company told NBC Sports that this was their reasoning:
While Giants fans celebrated their victory at the Parade in New York City – Boston locals got a 900 pound sweet surprise courtesy of Pawngo in the center of Copley Square in the heart of Boston. 900 pounds, or 8,000 bars of Nestle Butterfingers were piled high with a sign entitled, "Thank you Wes Welker" – making everyone in the area stop to take pictures, grab a bar, and have a laugh.
Something tells me the people of Boston aren't laughing over the prank. I'm not even a Patriots fan (other than Welker and that beast Vince Wilfork) and I don't want to buy from them. Oh well, at least they got people talking, right? And seriously, between this article and the Maverick's candy rings, I'm getting hungry.