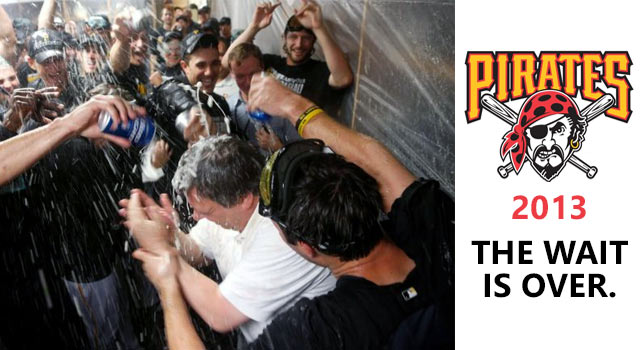 It's been a long time coming, and fans of the team can finally exhale: The Pittsburgh Pirates are going to the playoffs for the first time since 1992.
At any point this season, it felt like it could all fall apart as it has tended to do in previous years. Can you blame Pirates fans if they thought that a late-season slump would have shattered their dreams, again? But even though the doubt kept trying to creep in, there was something different about this regular season. Even though the doubt kept trying to rear its ugly head, something else kept it in check: belief.
Belief that the starting pitching for a team that was forced to sit through years of first-round draft busts like Brad Lincoln, Daniel Moskos, Bobby Bradley, John Van Benschoten, and Bryan Bullington, would finally pull it all together. They did, and they have the second-best ERA in baseball.
Belief that Andrew McCutcheon was the heart and soul of this team and could lead them out of a two-decade slump. And he did, and is on his way to a possible MVP win to prove it.
Belief that the city would come together to support the team that had so many heartbreaks over the years, and they did. The largest single-season attendance for a Pirates team in the 80's and 90's was 2,065,302 fans in 1991, and that was at the cavernous Three Rivers Stadium. This year the Pirates brought 2,256,862 fans through the gates.
Belief that a payroll of $66 million dollars was enough to get a team into the playoffs, when free-spenders like the New York Yankees were paying their players over $228 million. And it was. The Pirates are on the way to the playoffs, and the Yankees are getting ready to be officially eliminated from post-season contention.
Belief that this was the first time since the outfield was patrolled by Barry Bonds, Andy Van Slyke, and Bobby Bonilla that the Pirates would take to the field for a meaningful game in October. And they did, as a team that made an entire city proud.
There is still some time to catch up the division-leading Cardinals, but at the very least the Pittsburgh Pirates are on their way to the MLB Playoffs as a wild-card. Either way, there is a strong belief running through the city of Pittsburgh that this is the season that the Pirates don't just make it to the playoffs, but do something that the Jim Leyland-led teams of the early 90's couldn't do; win it all.
This Facebook status from a local Pittsburgher says it all:

Belief in a World Series? Yes.
Welcome to a new month, Pittsburgh. It's Buctober.