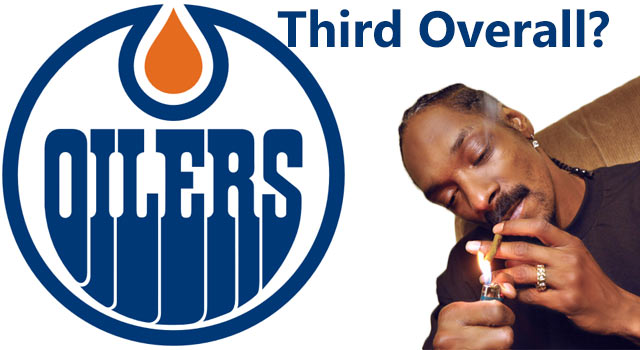 Last week, Adrian Dater made the curious choice of ranking the Edmonton Oilers as the number three overall team in the pre-season NHL Rankings in his Sports Illustrated report. He has the Pittsburgh Penguins first and the New York Rangers second, which seemed to be on par with what a lot of people think about those teams. But then, according to Ryan Whitney who plays for the Edmonton Oilers, Dater may have taken some time out to smoke some medical marijuana. Here's what alternate captain Whitney had to say in response to the report.
Third? Not third in the West, either? Overall? I think that... well. marijuana's legal in some areas.
Well, Ryan, you missed some things during the lockout and you were more accurate than you know. Dater lives in Colorado which did legalize marijuana during the time the players were away from the game.
In fairness, Dater did have a reason why he thought the Oilers could do so well, and it does make some semblance of sense:
Check with me in a month or two, but it says here that they will get off to a great start -- which really ups the odds of getting into the playoffs. Why the reason for Oil optimism? Because Ryan Nugent-Hopkins, Taylor Hall, Jordan Eberle and newcomer D-man Justin Schultz all played regularly during the lockout in the AHL and will be that much further along than the players who were limited to informal skates or shinny matches for charity. Eberle had 51 points in 34 games for Oklahoma City, while Schultz had 48 in 34. Granted, big questions remain in goal and defense, but what an offense this should be.
I understand what you're saying Dater, but third? That's a little...high.
Check out the video below.