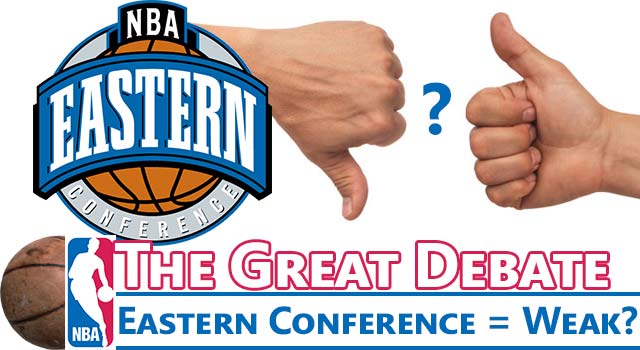 This is a recurring NBA conversation covering current events, history, and views, all from Matt Truck (@BroTruck) and Dan Quarterly (@DanQuarterly).
Dan Quarterly: The more I watch the Eastern Conference, the more convinced I am that this is the weakest East that I can remember. The Heat are playing at an un-earthly level while the 2-10 teams are all a coin flip any time they play. The Celtics are cooling off from their brief post-Rondo win streak, the Pacers have cooled off, and the Knicks finally look like a team with a ball dominant leader and a bunch of forty year olds.
The more I watch the Western Conference, the more I'm counting down the minutes for May and June. I believe five playoff spots have been clinched, but if they haven't been, five teams are locks. I don't see Golden State, Houston, or LA losing their playoff position (only threat I see is if the Mavs get hot and the Lakers drop the ball).
Is it just me or are you kind of hoping that the Mavericks slide into the dance so that we can watch Dirk give it one more ride? The purist is me hopes that it is at either the Rockets or Warriors expense though. I couldn't imagine a playoff picture without Kobe, Dirk, Duncan, KG, and Pierce all involved.
Matt Truck: You know that I have a soft spot for Dirk. Unfortunately for basketball fans and for him, big frames tend to age badly. That playoff run of his in 2010 was unbelievable. He was head and shoulders the best basketball player on the floor, which is saying a lot with the talent that was out there. While it'd be great to see him give it one more go around, I need to take the nostalgia fan out of me for a second and think level-headed here. I think that the current seedings right now in the West are as they should be.
DQ: I have two questions for you:
1. The East looks like a one horse race. I'm not saying that IND, NYK, or BOS can't win a series, but I can't imagine it happening at this point. But how many Western Conference teams can get to the Finals? This conference is loaded and the best part is each team plays a fairly different style from the others and the coaching (outside of the Lakers and perhaps Clippers, unless you consider Chris Paul the Clippers head coach) for each squad is top notch and playoff-push eligible. Who can win the West and who can beat the Heat?
2. Are the 2012-13 Denver Nuggets the most underrated team in recent memory? What this team is doing is unbelievable. Plus, their style of play cannot be matched or slowed down by anyone. I'm convinced if Denver shoots over 45%, they are as unbeatable as Miami right now.
MT: At this point, the West is so much more interesting due to sheer breadth of talent. Look, the East is still interesting if Miami and Boston meet in the Eastern Finals. Like I've said, I have serious doubts about Boston extending that series past 5 games, and the story line of how "easily" they blow through the playoffs is a story in its own right.
But let's get serious with the West. As it stands of this writing, here's our first round playoff matchups: SA/LAL, OKC/HOU, DEN/GS, and LAC/MEM. I could not have enough TVs going in my house to watch all of these. There is seriously not one BAD matchup there, and all of those serious could realistically go 6 games (with the exception, in my view, of DEN/GS and OKC/HOU -- while I love the Rockets' squad, the defensive issues heading into the post season make a track meet a scary proposition when Durant/Westbrook are on the other side.)
Regardless of the outcomes in those series, it again gets super interesting in the later rounds. As much as I don't think the Lakers are put together to win this year (or any year in the near future for that matter), Kobe is still terrifying in the post-season and the "old" Spurs are probably their best draw...except for the fact that Tony Parker would have a field day scoring on Nash, and that D'Antoni had historically said "If we play our game, we don't need to worry about theirs" in reference to the Spurs when he was with the Suns. Defensively the Lakers are just too slow.

I can easily see either OKC or SA winning the West. My feelings on OKC aside, they're a really tough out for a lot of teams in the West. SA is a living basketball clinic, so enough said there. Where the debate gets interesting is where one stands on Denver and the Clippers. On the Clippers, we talked last week about our feelings on the point guard position. To me, the team is explosive and quite athletic and could beat either OKC or SA, but I don't think that they're good enough to beat BOTH en route to the Finals.
That leaves Denver. Instead of just answering the question, I'd like to pose the first argument against them that comes to mind to let us get into this deeper. The argument goes like this: "Scoring is so spread out (2 guys at 16-17, 4 and 11-13, 3 at 8-10 ppg), so in close playoff games (which there WILL be), who's the go to guy?"
DQ: First and foremost, my confidence in the Nuggets immediately jinxed them. Nothing like a 20 point loss to the lowly Hornets to help force feed me some humble pie.
Anyway, I love the question you ask. I love it because I can answer with confidence: Ty Lawson. Lawson's improvement in the last two seasons has to be tops in the league. He's gone from a solid point guard who you wouldn't mind having to a cold-blooded leader who is turning a no-name, no-star Nuggets team into a legitimate championship contender (see Billups, Chauncey).
I love the entire make-up of Denver's team. They play defense, they run more effectively than any team in the NBA including the Heat (obviously my opinion that could easily be argued), they are deep, they have great leadership, AND THEY ALL KNOW THEIR ROLES AND STICK TO PLAYING THEM.
I agree that if the playoffs began today and those were the West matchups, I wouldn't let myself miss one dribble. But I don't realistically see any team other than SA, OKC, and Denver winning the West.

When I look at these three teams, they remind me of rock-paper-scissors. With the matchups, I think San Antonio would be favored over Oklahoma City, Oklahoma City over Denver, and Denver over San Antonio.
MT: See, I agree that it probably is Lawson, but how does that fit in with our working thesis that, in today's NBA, a great PG just isn't enough? Is the theory with the Nuggets that they are well-rounded enough, and play their roles well enough to make that less of an issue, and that their style makes them really tough to compete with? I can honestly go either way on the arguments about their home court being such an advantage with altitude. Their home record at this point is 34-3, which is on par with Miami and slightly better than the Spurs or the Thunder. I think we may not give professional athletes enough credit for their capability to adjust. Now, that being said, if you get a hot Denver team come out in that first 8-10 minutes of play and the other team starts slow, it may be a confidence builder for the Nuggets that has some form of psychological reinforcing effect.
There's no doubt that the team is talented, but down the stretch I'd like to see them win some more road games. Fortunately for them, they only have 5 remaining games with current playoff teams in either conference and one with Utah on the cusp. Three of these games are on the road, which would be big for confidence to "win anywhere" going into the playoffs.
DQ: I didn't even realize that my Ty Lawson crush goes against what I've preached that point guards just "aren't enough." But for some reason this Nuggets team is different. They have everything that is needed to win a title in today's NBA...minus a super duper star. Unfortunately for them, a superstar is probably the most vital aspect of a championship contender.

But one thing about this Nuggets team is that they are hungry. Rarely do you find professional teams "hungry." They are usually just a group of millionaires with uber talent who turn it on in the fourth quarter/9th inning of big games. Denver plays hard from start to finish. Like last year's Thunder would. This Nuggets team reminds me of a '12 Thunder-'11 Mavericks hybrid (aka they look like the last two Western Conference champs).
MT: Let's shift gears a little bit and briefly get to a topic that has me all jazzed up: The Toronto Raptors' use of SportVu cameras for enhanced analytics. There was an article about this on Grantland by Zach Lowe that was amazing. The short version is that Toronto has taken recorded play with turned the video output into a computer program that's been infused with enough intelligence to not only track what did happen, but what defenders should have done given the matchups and length of possession. It is stunningly cool to watch.
I think basketball analytics informing decisions is totally useful. It probably makes good teams better. This business is just so competitive, and any little edge may be helpful. I'm not totally up on the stats that are really "good" per se, but where do you stand on all this stuff?
DQ: Zach Lowe is the Larry Bird of NBA journalism. (I don't know why, but he just is - Bob Ryan is Bill Russell because of his experience, success, and knowledge.) I was pretty impressed with his SportVu piece, but also I must admit, even after reading that, it was very over my head.
What stuck out to me the most was his first footnote where he listed the 15 teams that currently have SportVu. Minus the Thunder, they were all either veteran-laden or average (or bottom feeders such as the Cavs [sigh...]). In other words, they were all teams that could use the help of studying advanced analytics like this.
You know who I didn't see listed? The Heat, the Nuggets, the Clippers, or also known as the teams that can just flat out run and shoot. I don't mean to blow this topic off, but I see it as something that indeed helps but won't make or break any team. This kind of reminds of me the NFL or even NCAA defense trying to shut down a duel-threat QB. Film study, solid reads, and gap integrity can help you so much, but at the end of the day, you just better pray you score one more point than him.
It is scary to think about how advanced technology is though and even scarier as to where it is heading. What is next? Reliving game films holographically on the court?
MT: You hit the nail on the head: For teams that have arrived, possess all-NBA athletes, and that are so gifted above and beyond what other NBA players have, raw athleticism and closing speed covers up a lot of less than optimal defense. Take the Heat at Bulls game recently as an example: in the fourth quarter down the stretch in Chicago, there were two separate occasions where LeBron funneled Kirk Hinrich toward the basket without a ton of help behind him...intentionally. Basketball analytics would say that's suboptimal, but "LeBron analytics" says the defense worked perfectly, with one layup attempt sent packing out of pounds and the other with a vicious two-handed pin off of the backboard.
What I think is cool is that this gives the fan a periodic window into how NBA teams are using statistics and technology to improve their odds of success. That's really what this is all about -- taking your odds of winning from 50/50 to 60/40 can mean a huge thing for your franchise's future. I know the Grizzlies are really big on the analytics stuff, as are the Rockets. Both teams are up and comers. But the Grizzlies also have two post players with sublime big men games, and the Rockets have James Harden.
When push comes to shove, the "haves" in the league are the teams with the main stimuli causing the system to have to respond. In this case the new working hypothesis is: "Ok, so Miami, the Nuggets, and the Clippers are a matchup nightmare athletically. We don't have wing players with this much speed like Miami, nor do we have a Kenneth Faried and set of runners like the Nuggets, or freakily bouncy bigs and a great floor general like the Clippers. What we do have is a system that measures tendencies and can tilt the odds in our favor that we can implement with our guys." And in the NBA, if the game can be kept close long enough, sometimes that's all that is needed.
Round three of the debate is over. Check out the other debates below:

Round One (Jordan vs. Everyone) || Round Two (Heat, Celtics, and the PG)