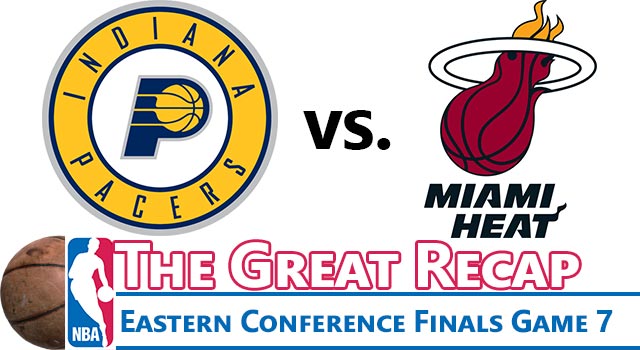 As you've undoubtedly garnered from my columns, and from my podcast appearances (@BroCouncil pod shout-out!), I'm a big LeBron fan. I'm a bigger NBA fan, and there's nothing like a good game 7. It's time for me to live blog this bad boy. I'll try to stay objective. Big shout out to Bill Simmons at Grantland for doing these long enough to make me want to do one of my own.
7:50 PM: TV is on. This gives me enough time to carbo load with some much needed whole wheat pasta and low sodium marinara sauce (#HeartHealth). Somehow I was on NBC sports, and there's some Pens/Bruins Game 2 pre-game talk on. Never let it be said I don't talk about hockey.
7:52 PM: Enough hockey. Over to TNT to get ready for pre-game. Castle re-runs. I have no idea what this show is about, but every time I get the last few minutes before Inside the NBA starts, there's some acoustic or piano track playing in the background. This episode has a very awkward apparent unbeknownst love interest. If I'm going to have to miss The Bachelorette tonight, this will do.
8:00 PM: Coverage starts chilling intro for Pacers/Heat. Slow motion camera replays have been great for just about every sport, and even better for the montage editors.
8:02 PM: Cue Ernie Johnson. In NBA history, 112 game 7s in the playoffs. Home team is 89-23. Joining Ernie on the desk are none other than Shaq Diesel, Kenny Smith, and Charles Barkley. In all seriousness, rumors are that Charles Barkley may be done with this show sooner rather than later. I've heard him express interest in GM jobs. Great for him, bad for us.
8:05 PM: Heat huddle in tunnel. Dwyane Wade puts on jacket. Heat run out. Dwyane Wade takes off jacket. NBA warm-ups outfits are an utter mystery to me.
8:07 PM: Roy Hibbert and the Pacers getting ready to run out. Roy Hibbert counts 7 guys. I guess that's enough to form a huddle and run out.
8:08 PM: James Jones shots in warm-ups! If this guy wasn't playing behind Battier, Allen, Miller and other rotation guards, this guy would be getting minutes for someone. Miami has such good shooters that sit on its bench. This Pacers team has revealed a flaw, though, in that without penetration/kickout by BOTH James and Wade, there's trouble in getting the role players (i.e. knock down open shooters) going.
8:13 PM: LeBron leads all NBA players in history with 34.3 PPG in game 7's. Behind him is Jordan, Allen Iverson, George Gervin, and Yao Ming. Only 3 game 7's all time for LBJ, but impressive nonetheless. One thing I've noticed in the shots of him in the first 13 minutes on air is how bouncy and relaxed he seems. I was expecting more of a "Boston Game 6" type attitude from him. That'll be interesting to watch develop.
8:16 PM: Just realized I was boiling the water on the wrong burner. #NervousEnergy. Sir Charles is saying 20-25 points combined from George Hill and Lance Stephenson and 16 turnovers for the Pacers are the numbers to watch. Shaq wants more than 3 boards from Bosh and 50% shooting from Miami as an aggressiveness barometer. Kenny wants 15 shots for Wade. Me? I'm watching 2 early Hibbert fouls. When the Pacers have to get to the bench early, bad things happen.
8:25 PM: Frank Vogel addressing the team saying it's not a historic series unless the champ goes down. I agree/disagree. Its still historic in that an up and coming team gave a serious run to a Miami squad that has looked unbeatable at times this year. That said, I agree that we'll forget about this one, just like we forgot about Heat/Celtics last year come next season. Well, most people do at least.
8:28 PM: Panel has one Heat prediction, one Pacers prediction. Kenny couldn't decide. Me? I'm going with Miami. My thought is that Wade/LBJ are going to come out super aggressive, get early fouls on Indiana's bigs, and come out strong (hasn't been the case most of the series). I'm going to say Heat win by 10. I worry that this may be a "lights too bright" moment for the Pacers.
8:32 PM: Phil Collins' "In The Air Tonight" pre-tip song choice is most underrated part of the series for Miami.
8:34 PM: And we're off! Heat control the tip. Wade misses a shot on the low block, then George Hill with an offensive foul. (Turnover 1). Missed shot by Haslem, then another Pacers turnover. First bucket to Hibbert, then a long jumper from Wade.
8:37 PM: Bosh hits a jumper. Wade/Bosh with Miami's first 6, good news for Heat fans.

8:40 PM: 7-0 run by Pacers. Time-out Miami. 12-6 Pacers. Missed alley-oop opportunity at one end by LeBron leads to a George Hill 3. Huge swing early, as the crowd would've erupted.
8:47 PM: Third Pacers turnover. Miami's doing some serious doubling whenever Hibbert gets a touch. Fourth Pacers turnover and LBJ with a serious tip slam. Heat up 15-14 with a little more than 4 minutes left in the first quarter. For those of you wondering, my pasta is great, by the way.
8:54 PM: First substitution – Mike Miller in for Haslem. This guy can straight butter the biscuit. Bosh tries to draw a foul on HIbbert, misses a layup. 1-for-7 start for Bosh. 1-for-8.
8:57 PM: Pacers' 8th turnover leads to a Wade dunk. Birdman comes on. I wonder what kind of gel he uses for that Mohawk. Paul George with a head of steam draws a quick foul on Ray Allen.
9:01 PM: 9 Pacer turnovers in the first quarter, but they lead 21-19 after the first quarter. First quarter was what you want out of a game 7: refs letting the players play, passion/aggressiveness on both sides, and a really engaged crowd.
9:05 PM: Pacers playing a lineup with 3 bench players. Miami has to capitalize. If the Pacers can get 10 points out of their bench, it's a really good night. How Frank Vogel is comfortable with this lineup even for a few minutes is beyond me. Their entire offense when the bench is on the floor is Paul George dribbling near half court, then launching a fadeaway jumper. Every time the Pacers score with this lineup out there it's a win.
9:07 PM: Ray Allen siting! Good sign for Heat fans, because he's been ice cold. Nails a corner 3, but it looks like Mike Miller spent his jumpers in the 4th quarter of game 6, because he can't buy a bucket even with three really good looks from the same spot through this point in the game. Pacers are getting away with playing their bench, though, as long as Miami misses.
9:13 PM: After a TV timeout, Indiana has a line up of Augustin, West, Mahinmi, Young, and Stephenson. This should end quickly, after Miami gets a Ray Allen 3 and LeBron dunk. Sub out Augustin, bring in George Hill.
9:19 PM: Incredibly, Vogel kept both Hibbert and George on the bench. Miami has blown the game open, up 39-29 with a shade under 6 minutes left in the second quarter. I'm all for resting your guys, but in a game 7? If we come back from this time out without one of Indiana's studs on the floor, I'll be stunned.
9:21 PM: Both are back. Hill nails an open 3, then they force a 24-second shot clock violation on the other end. If the Pacers play less then 3 starters the rest of the game, they aren't serious about winning.
9:31 PM: Miami pumps lead back up to 12 with 2:56 left in the second quarter. Ray Allen 3-for-3 from deep, with 10 first half points. The Pacers look shell-shocked. Hibbert looks much more like the regular season player than the one from games 1-6 this series. He looks super tired, and he can't handle wave after wave of double team. I'm seriously confused about where this was from Miami in the 3 losses this series, and the 3 wins for that matter! Hibbert's a guy who, with single coverage and space, can put the ball on the floor several times, then dive to the lane with a hook shot. How does Frank Vogel respond? Call me crazy, but I want nothing more than deep jumpers from Stephenson, George, and Hill.
9:33 PM: Stephenson hits a fade-away three with the shot click winding down. 2-for-2 on those this series. Then Wade draws foul number 3 on Roy Hibbert. Big sequence. Hibbert's already out of rhythm, now he's in foul trouble.
9:39 PM: Wade gets a runner with time winding down. 52-37 at halftime. It's hard to blame Vogel for going to his rotation that's worked thus far, bat at the same time this looks like the several minute stretch early in the second quarter that will come back to bite the Pacers.
10:04 PM: Second half so far has seen Indiana pounding the ball into the bigs. One point dent in the lead through four and a half minutes.
10:07 PM: Two offensive boards this quarter for Wade, 6 rebounds total for the game. Hindsight's 20/20, but America should have expected a good Wade game when the chips were on the table, no?
10:12 PM: Having an exchange with @DanQuarterly about the Finals now via text. He thinks Spurs in 6. I say Miami in 5. He's not pleased.
10:13 PM: David Beckham sitting courtside with Julius Peppers, then a Justin Bieber with Jaden Smith sighting. It's amazing to me that more youth today know the latter 2 names but are clueless to one of the greater pass rushers we've seen. I digress.
10:23 PM: Hibbert gets foul number 4. Miami's 19/20 at the line, which doesn't help the "Refs side with home crowds in game 7s" theory.
10:28 PM: Hibbert gets foul 5. If it wasn't over already, it looks like it is now. Miami up 19 with 1:48 left in the third quarter. I had fears voiced in a private text to @DanQuarterly after game 6 that this would be a blowout, but I was really hoping for a close game. If the Pacers can't get this to low double digits with 8 minutes left, then we can kiss it goodnight (Announcers made a good point early in the series that Indiana struggles to play from behind, so even getting it to low double digits would be a win).
10:37 PM: Third quarter in the books, with Miami well in front 76-55. I can only hope this means James Jones, Joel Anthony, and Rashard Lewis get minutes down the stretch. Joel Anthony's nickname, "The Warden", is currently my favorite nickname in the league. It gives me a nice giggle every single time.
10:42 PM: 2007 dunk contest winner Gerald Green sees his first action of the series. This cat had some nasty slams in the contests he was in, but I think both are weak compared to the windmill alleyoop on a fast break a few years back.
10:53 PM: Paul George fouls out. This is really good reflection time for us. Back in our playoff preview, my partner in writing Dan Quarterly made the point that at some point in his career, we may see Paul George super competitive with both Melo and LeBron. Who knew that it would be THIS series? George was absolutely marvelous, and the future is bright for this young player. This guy relishes the spot light, and played LeBron as well as you can play him (take the ~30 PPG average with a grain of salt – LBJ had to WORK for those points), while at the same time contributing well on the offensive end.
We had done a piece before on the excitement in coming years for the Bulls and Pacers. These next few years will be interesting to watch, though, because salary cap issues for many teams wanting to avoid the luxury tax (Pacers apparently are included in that class if George is given a max deal) may mean that some guys can't be kept (West was a name thrown around as a potential problem).
Nevertheless, I tip my cap to Paul George, and to the Pacers organization for taking what many viewed as a "flyer" on the kid out of Fresno State a few short years ago. Is this the peak for Paul George, probably not. He's a good, but not a great shooter at this point, and he seems to settle some times for the jumper rather than taking it to the tin. That's a young player though, and he's great on the defensive end.
11:04 PM: Miami up 26 with 4:30 left. This game is in no way reflective of the series, but at least it gives some time for introspection. An interesting question is what would have happened had Danny Granger (injured early in the season) been available.
On the one hand, we could say that he'd have taken shots away from Hibbert, West, and George, making them less impactful. On the other hand, he also would have taken shots away from bench players, and relegated a current starter to the bench, giving Vogel another good alternative for minutes to spell his core group.
This is why theoretical are so interesting – totally unprovable, and so many variables to consider. With hindsight though, it's probably fair to say that an extra scoring asset would have been huge for the Pacers, possibly even meaning they would have won the series in 6 games or less. That said, if we were going to play hypothetical, what would have happened if Wade had not had the bone bruise? Again, it's a dangerous place to go, but suffice it to say that these teams may have a good matchup for the next few years (assuming, that is, that the Pacers keep both West/Granger, and that Miami can resign Bosh, Wade, and LeBron in summer 2014).
11:09 PM: James Jones, Joel Anthony, Rashard Lewis getting time here. Things get a little chippy with a Pacers bench player and Norris "Teach Me How To Dougie" Cole. Both get tossed, then a Miami fan gets tossed as well. This stuff is so unnecessary.
11:16 PM: Game winding down, time to look ahead. Miami/San Antonio final starts Thursday night. Count me as excited. I'll go on the record with my prediction of Miami taking its second straight title, winning the series in 5 games. That may be wishful thinking, but I really hope it goes 7. Goodnight America.