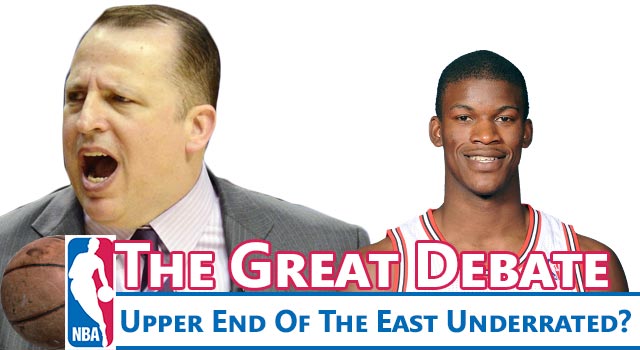 This is a recurring NBA conversation covering current events, history, and views, all from Matt Truck (@BroTruck) and Dan Quarterly (@DanQuarterly).
Matt Truck: Halfway through the playoffs now, and we should probably do some debriefing. Let's start with Miami/Chicago. I'll give you the floor.
Dan Quarterly: I'm not a "Moral Victory" guy. I think they are for losers. But, for anybody who watched any of that Bulls-Heat series (maybe minus Game 2), it's impossible to not tip your cap and respect the heck out of Tom Thibodeau's Chicago Bulls.
The healthiest guy on the roster was perhaps Derrick Rose, who apparently still wasn't even healthy enough to play. Yet they scratched and clawed and limped their way to a win in Miami in Game 1 and competed in a few other games that were one or two bounces away from being Chicago wins.
There's so much to take away from that series, which is crazy to think about considering the numbers show it wasn't even close. But the first question I'll ask you is simple: Are the Bulls really that close?
Think about it: They played 8 guys the whole series and still hung with the deepest team in basketball, two of the guys who played were drafted in the 90's, two never played more than ten minutes, four played north of 40 minutes every night, and their two best players didn't even play at all. And Jimmy Butler grew up.
MT: I love the Jimmy Butler call out. There was something about how he played LeBron in the game that they snapped the Heat's streak that got me excited about his potential in the playoffs. At least I got that one right on our podcast, as the relevance of Mario Chalmers is being called into question by Norris Cole's breakout stretch.
DQ: As a basketball fan, I'm excited to see this Bulls team healthy in 2013-14 (knock on wood). They could be really special.
If I'm Gar Forman, I'm thanking Carlos Boozer for his effort and leadership in the playoffs, and then I'm dangling his expiring contract, draft picks, and either Luol Deng or Jimmy Butler (one of those guys is probably expendable AND valuable now with Butler's high level of play this year) in front of any team who's willing to give up a big man that can score and defend. (Note to reader: Boozer could only do one of those and he's good enough at that to be paid $20 million a year.)
If Forman can pull a rabbit out of his hat and land Kevin Love, LaMarcus Aldridge, Pau Gasol, or DeMarcus Cousins this summer, I'd probably consider the Bulls and the Heat on the same level. And the best part is all four of those names that I just mentioned have been said to be on the market.
How realistic is Dwight Howard to Chicago? Why wouldn't he want to go their? He wouldn't have to be the alpha dog, he'd be playing next to one of the best defensive centers in the NBA (who would then be playing PF), and he'd play for a coach who would rip every ounce of potential out of his superhuman body.

Let's say the Lakers sign-and-trade Dwight to the Rockets, the Lakers then keep Pau, DeMarcus Cousins stays with the Kings and Kevin Love sticks it out in Minnesota until the deadline when he'll be traded to the Cavs for Tristan Thompson, Wayne Ellington, Drew Carey, and 50 future draft picks (wishful thinking?), and the Bulls land LaMarcus Aldridge for Boozer's contract, Luol Deng, Marquis Teague some package of draft picks. Then the Bulls eight man rotation next year is:
PG – Rose; SG – Butler; SF – Belinelli; PF – Aldridge; C – Noah; Bench – Hinrich; Bench – Gibson; Bench - Corey Brewer (who I just signed there as a free agent for a discounted rate)
MT: Let me first clear the record and say that, dating back to when Rose was healthy, I'd never been a Chicago believer. You're right – as good as Carlos Boozer can be on the offensive end from time to time, I'm not sure that he's got the make-up of Rose, Noah, Butler, and Deng -- guys who you know are always going to show up and go to war. Now, that 5 of Rose, Butler, Deng, Noah, and Free-Agent-Signing-to-be (disagree with Dwight Howard signing, but all in favor of a Kevin Love) is really interesting.
I still wonder if it means there's too much Derrick Rose contribution needed, and whether or not Chicago has an extra gear (what we know about Chicago and OKC is that they'll do well in the regular season, but turning it up a level has yet to be demonstrated). In the next few years at least, getting past Miami for them will be predicated on a less-than-100% Wade. That's a big thing that I under-appreciated heading into the playoffs. I didn't know just how banged up he was.
The biggest thing from that series that has caught my eye is that, as bad as the East seems, stylistically Miami has had problems with (a) Boston (probably a thing of the past); (b) Chicago; (c) Indiana. Now, "problems" are all relative here. For a team that rolls over most opponents, losing to those three squads actually says that the East is a tougher out than I realized. I still think Miami can get out of the East in 5 games against Indiana (the point about Indiana having a historically great defense, per Zach Lowe of Grantland, is well-taken, but historical rankings will be hard to come by against a top 10 all time player currently (LBJ), and one of the best shooting guards ever when healthy (Wade).
DQ: I like the make-up of the Pacers and Bulls (and the aforementioned Celtics team that will probably be disassembled this summer) is because they are not scared of Maimi. Think about it, the NBA always has the big dog on the block running around, and there are usually only a handful of teams who aren't scared of them, or better yet who hates them.
Indiana, Chicago, Boston, Memphis all have that mentality towards Miami. That's why I don't know if these next two rounds will be the cakewalk that a lot of people are chalking up for the Heat.
MT: As so many teams are going to small ball to try to compete with Miami, think about what will reasonably be the next 2 series for the Shane Battier's defensive minutes: David West, then ZBo in Memphis. I've heard it said that Memphis doesn't shoot well from the outside at all; well, that may not be a huge deal when Battier would be rendered nearly useless on the defensive end against the post savant of Zach Randolph. Again, I think Erik Spoelstra is smart enough to mix the rotation enough (surprisingly, their best lineup right now looks like it's Norris "Teach Me How to Dougie" Cole, LeBron, Wade, Bosh, and Chris Anderson) defensively. All that you're really giving up is an extra shooter, but having a barrage of Chalmers, Battier, and Allen in spurts off the bench probably would be sufficient.
DQ: There is no looking past Miami's improbable 44 wins in last 47 games streak, but when I watch them, I see a team with three players (when healthy) who are better than everybody left in the playoffs minus whichever point guard wins that Spurs-Warriors series and perhaps Marc Gasol. The Heat picked a great time to do what they are doing (by that I mean, sign three of the league's best players, assemble a team that is legitimately 11 players deep, and stay healthy), because when I look at the four teams left, assuming the Pacers win their series and regardless of who the other team in the West is other than Memphis, I see an NBA that, if it were not for Miami, would not be the spectator sport it has become this season.
Between the combination of injuries and team's underachieving, the Heat are a $100 bill in a league where it is hard to find a $20. I remember when I'd watch the Shaq and Kobe Lakers, I used to think it wasn't fair. They were so good and so dominant. While the Heat are undoubtedly so good and so dominant, when I watch them, what I see is a team who is edging out mediocre and hobbled competition (that legitimately speaks for probably 41 of their wins during the streak minus win at Thunder, win against Grizzlies, and the game were Bosh dominated the Spurs without LeBron and Wade) night in and night out. And they are doing it by subbing in a new lineup every three minutes in the fourth (minus LeBron and Bosh). You watched the Bulls series, Chicago was beyond winded while Miami had Norris Cole and Ray Allen on the floor playing their 15th minute.

The only way a team takes out the Heat is by toughness and depth (see 2011 Mavericks), but nobody in the entire NBA has both of those attributes right now.
MT: This year may be a bit of an anomaly. Last year's playoffs were great, and injury droves like this for all teams (seemingly) but one seem rare. The Heat experiment has kept things interesting again, and it will continue to do so in year 4, regardless of the outcome this year.
I'm ecstatic thinking about the absolute bloodbaths that we're looking at in the next few years from some combination in the Eastern Conference semi finals every year of Bulls/Pacers as the perennial 2/3 seeds. Ironically, the East would probably be better if Indiana, Chicago, and New York made an agreement that said "Hey, Knicks, we (CHI, IND) know that we are a tougher Miami out. How about we give you the three seed every year so that they have to play us both to get to the finals." In today's NBA, Bulls/Pacers may be the closest thing to historical physicality that we've seen. I've got chills.
That, though, opens the door to start thinking about what happens in summer of 2014. We'd better table this for now.
Check out our other debates below:

Round One (Jordan vs. Everyone)||Round Two (Heat, Celtics, and the PG) || Is The Eastern Conference Weak? || Knicks and Kobe