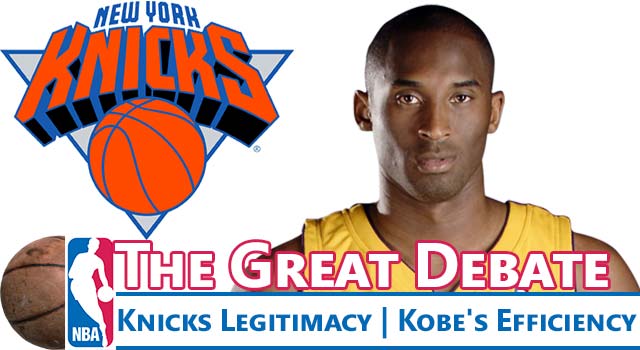 This is a recurring NBA conversation covering current events, history, and views, all from Matt Truck (@BroTruck) and Dan Quarterly (@DanQuarterly).
Matt Truck: Here's the good news for Knicks fans: their squad has been on a nice double-digit win streak of their own. Here's the bad news for Knicks fans: I firmly believe they're going to lose in Round 1 if indeed they wind up playing Boston as the 7 seed. I know that you disagree, so I'll give you the floor first.
Dan Quarterly: I want to guarantee that you are wrong so badly, but because their matchup is all but guaranteed to be Boston, I can't guarantee anything. BUT, that being said, right now I have a hard time seeing the Knicks losing in round one. Nor can I see them losing to the Pacers/Nets/Bulls/Atlanta in round two. Again, I won't guarantee it because you know how I feel about the mental makeup of a Doc-KG-Paul Pierce-led team, but the way that Melo and the Knicks are playing right now is scary.
Recently, they walked into OKC and won a big game. Big for confidence. Big for momentum. And it was a statement game. (Sidenote: I'm Statement Game Guy.) Plus, Carmelo Anthony has been the best player in the league for the last few weeks.
My only fear is Amar'e's return. I like Amar'e a lot, but numbers don't lie and the numbers show that when he and Melo share the floor, results are not favorable for the Knicks. Is your doubt harbored in Amar'e's return?

MT: My doubt rests in "mean reversion", or going back to averages. I ran the math. In the first 11 games that Melo has been back on this run (all wins) he's shooting 50% from the floor and getting 33 points a night. Unreal stuff, no doubt. JR Smith is also shooting 50% from the field, and getting 24 a night. As a team, NYK is shooting 41.5% from the field, and getting 106 points per game. Melo/JR are carrying more than half of the scoring burden right now.
How does that compare to the full year so far? For the full season, the Knicks are shooting 37.4% from 3 (4% points worse) and averaging 100 points (6 less). Carmelo has shot 45% all year (5% points worse) and JR Smith has shot 42% (rounding up, 8% points worse all year).
Ok, so that's a lot of numbers I know. But here's the point: Yes, JR and Melo needed to pick up the scoring load with Amar'e down. Point well taken. But the team is playing above what a solid sample size has shown them consistently capable of. The longer the streak runs that way, the tougher it is to show sustaining power of that trend to me.
That's the math answer. But math alone doesn't get me there. My basic problem with the Knicks is what happens when there's a "stall" in the system. I think it goes something like this: Melo will get his, but (a) it comes on more shot attempts (the Knicks are frustrating to watch when Melo holds the ball in the high post and that's the entire offense); and (b) more shot attempts in one place disrupts attempts elsewhere. In this case, I think JR Smith takes a step back in the playoffs, which is a huge problem for the Knicks team as a whole as it's constructed. When you have a second scorer who's totally a rhythm guy, that rhythm guy needs shots to get his swag on.
How do they adjust when Amar'e comes back? Honestly, I don't think it matters. The playoffs are a different animal. I really like the Celts in this one, and you know I think that they're not all that great of a team in the first place.
As a Knicks believer, lay out the game plan for them for me in the East. Do you think this is a team that can actually beat the Heat, or do you think that it's the whole "Well, at least they make it interesting" theory?
DQ: Do I think the Knicks can beat the Heat? Yes. The winner of a NYK-BOS series would be the only team to pose even the slightest threat to Miami. Will they beat the Heat? Doubtful.
But, for argument's sake, I won't limit them to the "Well, at least they make it interesting" theory. The only thing about the Knicks is that they have to shoot well. But what bodes well for the Knicks is that they are a team of great shooters. It's not like a hot night is "lucky." A hot night is what they are built to do. Plus, I love the Kidd-Chandler leadership factor. I'm Leadership Guy. You know that. I fell in love with the NBA because I loved seeing teams built and I loved seeing the finishing touches put on them. (Which is why I'm falling out of love with the league - guys are too friendly with each other and want to play with their buddies.)
I heard a few numbers on the Knicks today, and I don't remember them exactly, but it was something like they are 20+ games over .500 when Ray Felton plays and they are like 4 games over when Amar'e plays. With that said, give me a Knicks team with healthy Ray Felton, limited minutes Amar'e and a hungry Garden crowd, and I'll show you a series destined for seven games.
MT: While I'm dubious on the likelihood of it, boy it would be GREAT theater. One of my favorite YouTube videos is the night Jeremy Lin dropped 38 on the Lakers. That arena was unbelievably electric, and it'd be fantastic to see it like that when there's a trip to the Finals on the line. (See this video, after Lin drills the corner three at 4:48 - gives me chills every time).
If there's ever an arena where "Win the crowd" from Gladiator applies, it's MSG
Not only that, but I think that if it does come along, we'd probably see some great LBJ performances. You're a Leadership Guy. I'm a "Want to See History" Guy. I'm too young to remember Jordan's heyday. LeBron's not Jordan. We've covered this already. But he is the best basketball player alive right now, and seeing games like the 48 special in Detroit, and Game 6 in Boston last year are what define careers to some degree. MSG brings something out of these guys and it'd be great to see -- your personal feelings about LeBron aside.
DQ: I'm also a "See History" Guy. Believe me. But every year in the playoffs you have those one or two History Nights. And if it's not quite history, it's something that passes the Chills Test (i.e. Rondo's 44 points in Game 2 of last year's ECF when pretty much no other Celtic got off the bus or Brandon Roy's curtain call in Game 4 of WC first round in '11).
But enough about the future, let's talk about the now. Do you realize what Kobe Bryant is doing right now? Do you realize what he has done all season? And while he's done what he's done - do you realize how old he is and how many seasons/games/minutes he has played?
Anybody who retracts from Kobe Bryant's 2012-13 season due to his team's lack of success (and dysfunction) is oblivious to what is happening. This is not a 28 year old guy anymore. Kobe Bean is on fire and I hope for the sake of the NBA and its true fan base that he can manage another win or two over his final three games (all against playoff teams) and get into the playoffs for one more Kobe v. Timmy series.
MT: You're right. He's been unbelievably good, durable, and consistent. 38.5 minutes a night. 46% from the field, 32% from 3, still getting to the line 8 times a night, and passing the ball better as far as assist metrics go. His stamina is actually probably more surprising to me than their team woes, because if you had told me at the beginning of the year the Lakers would have to lean on him every single night, you'd think they'd be either (a) worse than their record is now; or (b) without their major offseason additions (at least in my mind).
Kobe's sixteen years deep in the Association and still putting efficient numbers up. He plays about as much as LBJ, gets to the line for one more freebie a night, and is the only reason that LAL still has a shot at the postseason. It would feel, just....WRONG if Kobe wasn't in the playoffs this year. I don't think they can beat the Spurs this year, and I don't think Kobe's getting that 6th ring as the league stands now. But for right now, he's definitely earned the right to have the shot of making a playoff run.
Round three of the debate is over. Check out the other debates below:

Round One (Jordan vs. Everyone)||Round Two (Heat, Celtics, and the PG) || Is The Eastern Conference Weak?