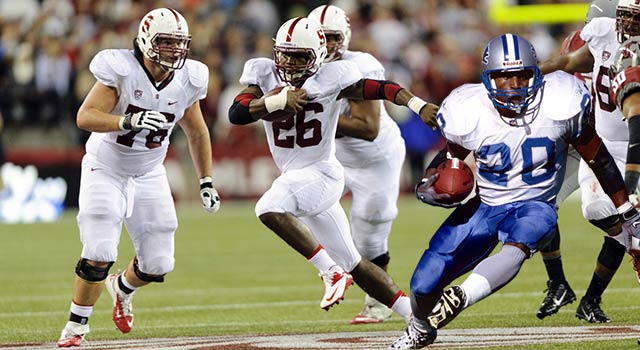 Have you ever heard of a guy named Barry Sanders? You know, he played football for the Detroit Lions and was the star of a video game? Yeah, him. He was pretty good.
Now he has a son named Barry Sanders Jr. who is following in his shoes as a sophomore running back at Stanford. Apparently he's pretty good too.
This weekend, Stanford was playing Washington State and Jr. decided to give a great impersonation of his dad, and left a Washington State defender in his dust as he cut and weave through the field.
Now, he's still not starting for Stanford, but if he keeps playing like this maybe we'll see him play for the Lions someday. Especially since, if we're being honest here, they have been looking for a running back since Sr. left.
All told, Jr. finished with three carries for 34 yards and a touchdown in the game. Hopefully we'll be seeing more of him soon. Check out his best run in the video below.