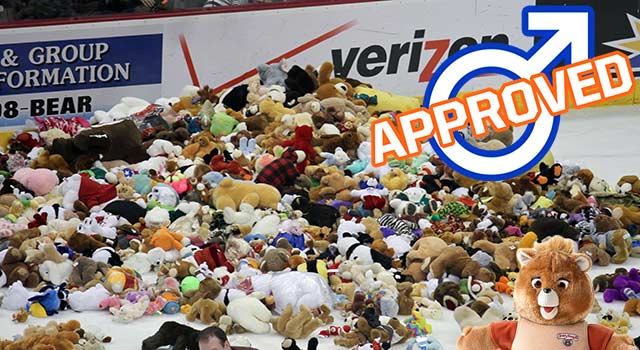 This is one of the greatest traditions I have seen in sports. The Calgary Hitmen are a minor league hockey team in the WHL, and they often run a promotion that is way better than throwing hats on the ice.
Pavlo Padakin's goal in the first period triggered the 18th Petro-Canada Teddy Bear Toss. That's where 16,000 fans tossed over 21,000 stuffed animals onto the ice where they are collected and donated to local Hospitals and charities. Here is a summary from the Hitmen's website:
Fans are encouraged to bring a small or medium sized stuffed toy to the game and toss it on the ice when the Hitmen score their first goal.

Teddy Bears will also be available for purchase at the game for $10 through the Rainbow Society.

This year over 23,000 Teddy Bears have been requested by over 50 local charities including; Salvation Army, Calgary Womens Emergency Shelter, Boys and Girls Club of Airdrie and the Alberta Children's Hospital.
So what happens after the teddy bears hit the ice?
The visiting team heads to the locker room, the Hitmen staff jumps on the ice to clean up the teddy bears, and the home players stay on the ice and pose for pictures as well and help clean up the bears. This year it took almost 45 minutes to bag up all of the Teddy Bears. They also have jersey auction for charity tied into the game as well:
The Hitmen will wear their new Reebok Teddy Bear Toss jersey featuring a Christmas red colour with the traditional Hitmen Logo. Features include a Santa hat on the front logo and snow banks on top of all numbers. There is also a Teddy Bear patch on one shoulder and a Petro-Canada Logo on the other.

These unique jerseys are being sold in an online auction which started today, click the image below, with net proceed to support the CBC Suncor Energy Food Bank Drive.
Great job, WHL. Check out a video of the toss below:
[Source - BuzzBishop.com, Hitmen)