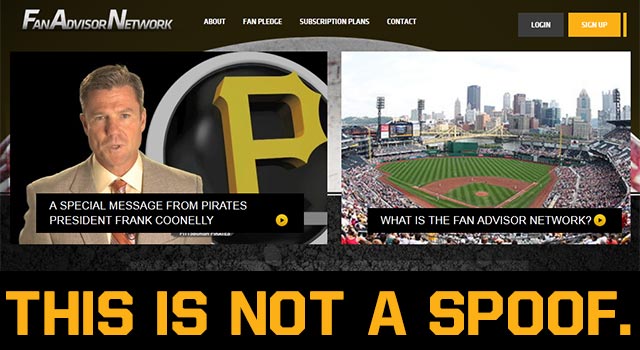 The Pittsburgh Pirates have been on an incredible roll on the field this year, but their off the field exploits continue to boggle the minds of fans everywhere. The fans of Pittsburgh are excited, and what does the team do with that excitement? Turn it into another way to make themselves look silly. We had to label it as "Not A Spoof" so local news stations could feel safe airing it, unlike some other stories.
The Pirates "Fan Action Network" (Get it? FAN?) has a "fairly simple" concept in mind. Check out their about us section:
The concept is fairly simple: Turn the most passionate and intelligent Pirate fans into consultants for the team that they love. Never before has the objective "voice of the fan" been captured. The Fan Advisor Network does so each and every week through its unique Fan Advisor Network Consulting System, a weekly single-question statistically valid survey. Confidential weekly reports are generated from this data and provided to the Pirates as well as to the Pirate Fan Advisors themselves.
What does that translate to? For only $9.95 a month you get to answer a single question every week about how the team is run, and you get a lapel pin. For $23.95 a month you get the standard package, plus vague "league-wide surveys," an invitation to an "annual fan meeting" with the Pirates organization, among other things like a certificate. There's also a gold plan for $600, but I can't even bear to burden you with all the greatness contained in it. I'll just say this much...you get a Pirates fleece that you can stick your lapel pin on. Excited? You should be.
So Pirates fans, for only $120-$600 a year you can tell the Pirates what you think. Who knows, maybe if enough fans sign up you can convince the team to shut this stupid idea down.
In an unrelated note, Bro Council is set to launch our "Bro Action Network" (BAN) where you can write articles for us for only $25 per month. Imagine the thrill you'll get by seeing your article potentially posted on our site! You're welcome, Bro Council readers. We know you've been waiting for the opportunity to give us money to work for us. Don't worry, we're sending you a scrap of paper and safety pin with each BAN welcome kit that allows you to make your own lapel pin. Again, you're welcome.
UPDATE: The Pirates have released a statement that they are not receiving any money from the FAN, and the site is now down for "reconstruction". The Pirates are claiming that they only asked for the results of the surveys from a fan who wanted to create the site.
OUR RESPONSE: Uh-huh. Sure. You want to know what some poor guy who spends $9.95 a month to be labeled a fan thinks about you signing AJ Burnett to an extension. Makes total sense.