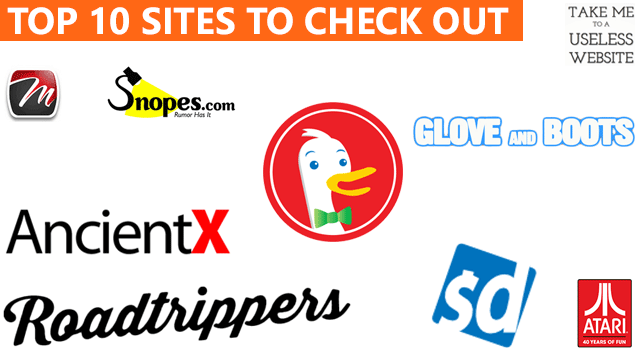 As a Bro Council reader, you probably have impeccable taste in the websites that you frequent. But what if there were some sites that you didn't know about that you should be visiting? Well, then it's a good thing that you're reading this article.
Here is a list of the Top 10 Sites To Check Out That You May Not Know Of:

1. Atari Online Games - atari.com/arcade
Classic Atari games? Check. Free? Check. Now you can play a bunch of old-school video games for free in your browser. Well, at least until Atari finally goes the way of the dodo. They're still working through bankruptcy, but for now the site is still up and running despite the fact that free games won't help their bottom line or ability to stay afloat. Thanks Atari!

2. The Useless Web - www.theuselessweb.com
A guy getting repeatedly slapped in the face with an eel, animated GIF's of dogs, and The Passive Aggressive Password Machine are some of the sites that this links to. Why should you check it out? Because it's stupid humor. And every now and then we could all use a little break from our serious lives, jobs, friends, and relationships to just enjoy some really stupid humor.

3. Roadtrippers - www.roadtrippers.com
Roadtrippers is a website that helps you find great attractions as you plan your road trips. It calculates approximate trip mileage, travel time, and fuel cost when you enter your travel information. Then, the site fills you in on interesting points of interest anywhere in the United States within 50 miles of a planned trip. Once a trip is saved, it can be synced to the Roadtrippers iPhone app for turn-by-turn navigation, and further local discovery while on the road. It's like an encyclopedia for road trips.

4. DuckDuckGo - www.duckduckgo.com
A site for anonymous web searching, DuckDuckGo is an Internet search engine that uses information from many sources, such as crowd-sourced websites like Wikipedia and from partnerships with other search engines like Yahoo!, Bing and WolframAlpha to obtain search results. The search engine policy says that it protects privacy, and does not record user information. Take that NSA!

5. Glove and Boots - youtube.com/user/gloveandboots
Glove and Boots is a puppet show that revolves around a groundhog and some red thing that looks kind of like a tweaked-out Elmo. And it's amazing. The humor is spot-on, the cultural references are stunningly deep, and they even show the world how they can fix their poor grammar. They cover all the bases, and are hilarious while doing it. Check them out. Today.

6. AncientX - ancientx.com
If you occasionally like to think about ancient mysteries, we have the site for you! The site is almost like that Ancient Aliens show on the History Channel, except you don't have to watch that annoying Greek guy with the stupid hair. The site is pretty bare-bones, but there is a search box at the top which will let you travel down a wormhole of UFO's, conspiracy theories, and time-wasting galore. Do we believe that it's all true? No. But it's still fun to read about.

7. Snopes - www.snopes.com
Now, we know that this is a pretty popular site, but we really wish more people would use this and stop making us call them stupid for believing in hoax stories. No, Bill Gates, Prince Awakeema, or any other wealthy people who randomly email you will not give you money if you let them have your bank account information. And yes, you may not like Bill Clinton, George Bush, or Barack Obama, but they're not lizard people from another planet. Well, maybe they are if you believe that AncientX site we told you about…

8. SlickDeals - www.slickdeals.net
This is one of our favorites! Are you looking for a good deal on electronics, video games, computers, or pretty much anything else in your household? Then you should check out this online community of people who are searching for the best deals on all kinds of items and post the prices, links, and instructions on how to get them. We just bought a laptop for the site for $800 thanks to Slickdeals. The normal price? $1,250.

9. Monoprice Cables - www.monoprice.com
Did you buy some home audio equipment from Slickdeals? Looking to replace your old computer cables? Want to start a band and need to order a mic or guitar cord? Well then check out MonoPrice. It's the best place to get Audio/Video stuff cheap. Seriously, this website rocks.

10. Bro Council - brocouncil.com
#shamelessplug #ForRespectableMen