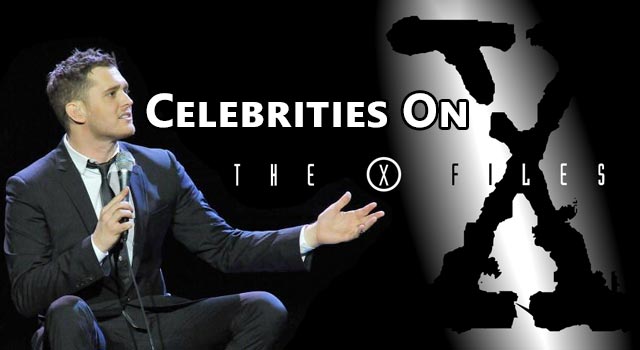 I recently discovered that the entire series of The X-Files is on my Netflix; which clearly means that I've been watching every season, episode by creepy episode for weeks. There are a million awesome things about the X-files: the way people in the early '90s wore a ton of lip-liner, the fact that apparently even federal agents didn't have their own cell phones until the new millennium and of course, the cameos of future celebrities.
So here is Bro Council's list of celebrities you never knew were on the X-Files (in order of famous-ness):
1. Felicity Huffman - (Season 1, Episode 7, Ice.) Before she was a desperate housewife, she played a doctor infected by an ancient homicidal worm virus.

2. Michael Buble - Before the soulful crooner hadn't met the girl of his dreams yet, a 21- year old Michael was on two episodes of Season 3 as an uncredited character named "Submarine Sailor."

3. Laurie Holden - Before she was Andrea on The Walking Dead, she played Martia Covarrubias, the first human to show a response to the Black Oil vaccine in ten episodes from 1996 to 2002.

4. Mimi Rogers - She's been on nearly every show since the early 90's, so it's not really a surprise that she played Agent Diana Fowley in seven episodes from 1998-1999.

5. Lucy Lawless - After she was Xena, she played Shannon McMahon on two 2001 episodes of the X-Files. Today the big fan of Greenpeace activist plays Diane Lewis on Parks & Rec.

6. Christopher Stanley - The Zero Dark Thirty and Mad Men actor was Agent Joe Farah on two 2001 episodes.

7. Donal Logue - (Season 1, Episode 2, Squeeze ) He played Grounded for Life's hilarious dad Sean Finnerty from 2001 to 2005 and more recently had a brief stint on Sons of Anarchy, but in 1993 he played corporate ladder-climber agent Tom Colton.

8. Eddie Kaye Thomas - You may not recognize his name, but he's been the voice of Barry on American Dad for the past 7 years, and was on HBO's How To Make It in America. He also got to play Jesus in Nick & Nora's Infinite Playlist. Pretty good for a guy who started as characters named "1st Young Man / Gary Cole" in two episodes from 2000 and 2001.