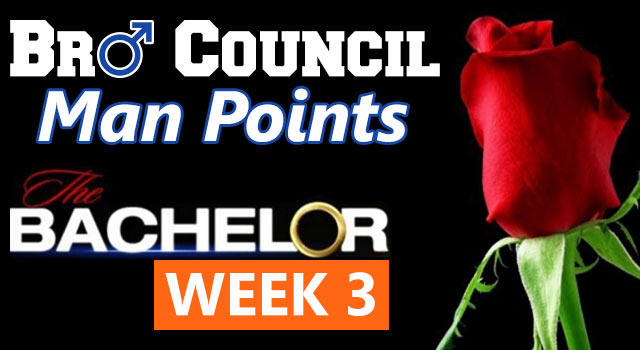 The continuing series commenting on ABC's The Bachelor from a man's point of view. Points are awarded based on many factors, all of which test whether or not the act on the show is "Bro Council, Approved."

One thing that I love about The Bachelor is the predictability. The episode opens with a season staple -- Sean working out. More pec flies and a little cardio work. I'd love to dole out points here, but I've seen next to no focused tricep, bicep, lat, hamstring, calves, or abdominal work. A man's got to have balance, after all.
The first date is with Leslie M., and Sean takes her to set a Guinness World Record: the world's longest on-screen kiss. 3 minutes, 16 seconds is the bar to set. Not the most subtle approach to testing chemistry, but better than a practical joke from last week. +1 for the improvement.
In the midst of the record setting attempt (which was completed), Sean's interview lets us know that the record is more difficult than it looks and that it was tiring to set. When they were inside the records museum, they saw a man bite through a bicycle wheel. Now that's something to complain about. -1.
For the evening portion, Sean takes Leslie to the top of a hotel roof for time to talk on the couch and sip on some bubbly. During the time Sean confesses that she makes him feel uncomfortable because he's nervous. +1 for honesty.
For the group date, Sean has the girls come to a beach to play a game of volleyball, where the winners get the evening with him. (Under-rated part of the show was the subtle brand marketing where all women are wearing the same brand of swimsuit. While I'm a guy, I'm fairly certain that I know that no women would want to wear the same brand as another girl if they're trying to impress a guy. My wife's not home to confirm this, so I'm rolling with it.)
Before the festivities start, Sean gets some triceps work in on the beach doing pushups with a girl on his back. Looks like Sean and I are on the same page with body balance. +1.
One group of girls wins, one group goes home broken hearted. As the girls who lost are standing crying, we see Sean with the winning team splashing around in the ocean yelling "woo" with arms raised. I don't care what the producers tell him to do. Some times you have to say no as a man. -1.
In the evening portion, Kacie B., a returning contestant, tells Sean of drama in the house between two of the girls. As an aside, this happens literally every year. Someone tells the lone guy/girl that a couple people aren't there for "the right reasons" and that they have to be careful. Most people don't really respond to this, but just take it in stride and move on to the revealing party's dismay.
Sean and Kacie B. knew each other before the show, but Sean confronts Kacie, asking her why she is the one telling him this. I have to give him +1 here, because he was letting America know he isn't going to let this typical Bachelor staple fly.
The second one-on-one goes to AshLee (another front-runner in our household). Sean rents out the Six Flags Magic Mountain theme park for themselves, but also uses the time to do some real good. He has invited two younger girls with chronic illnesses who had never met, but had become best of friends online, to share the day with them. This was a really cool scene to watch, and +10 points for a huge display of kindness and compassion.
In the evening portion, AshLee tells Sean her background story, which moves him to honest tears. +2 for the genuine emotion. I deem true sentiment manly, and before you mock me remember it is my column.
At the cocktail party that evening, Sean wears a normal, broad tie (finally...+1). Sean brought Sarah a limo with her dog in it to remind her he's thinking about her. Well-played, Sean, well-played. +2.
Three girls go home, including Kacie B. Big week from Sean by my math, putting him just shy of Brad Womack pace through 3 episodes.
Episode Total: +17. Season Total: +29
Check Out The Previous Weeks Here: