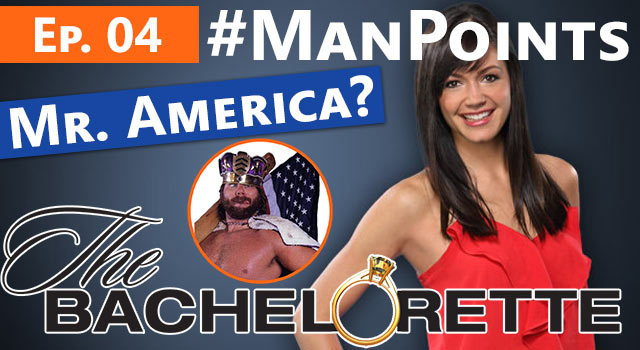 The continuing series commenting on ABC's The Bachelorette from a man's point of view. Our own Matt Truck (@BroTruck) watches the show with his wife and awards points based on many factors, all of which test whether or not the act on the show is "Bro Council, Approved." Each positive "manly" act gets a +, while points are deducted for things that aren't as flattering to your manhood. You can check out the ground rules here.
Enough of the LA skyline and sunny weather, it's time for Des and her suitors to jet set across the globe. Where better to start than Atlantic City...in the midst of winter turning into spring?
After arriving at the hotel, the group checks out their suite for the week. As soon as they walk into the room, one guy opts to test the mattress firmness with an all-out "fourth and goal" leap. Way to go, Zak W. (+1).
Brad gets the first one-on-one date from Des. The most underrated part of the date cards is that, year-to-year, all the Bachelors and Bachelorettes seem to have the same exact penmanship. If we're going to start publishing the suitor's written questionnaire answers on ABC.com, then can't our leading person take a minute to write a date card? I digress.
Brad and Des spend the day walking around the boardwalk, sampling the fruits of saltwater taffy, wandering around without sanitary attire in a chocolate manufacturing facility (hopefully the FDA isn't a fan of the show), riding a merry-go-round, and managing to sit in a cold sandcastle under a blanket. I give Brad props for allowing Des to go in a search for chocolate unabated (+1). Every man should learn this: just as a man can sense a good sporting event from a mile away, so can a woman with chocolate. Just let her go.
Unfortunately Des doesn't think there's chemistry here, so she sends Brad home after dinner. Even more unfortunately, it seems like the producers wanted a breakup scene at the top of a lighthouse, so the breakup happened only after a tiresome climb. Brad takes it well, respecting her decision and wanting the best for her. It's hard to teach class. (+1)
The date card arrives for the group date. Mikey T. is dressed for the occasion, shirtless of course (+1). The guys selected will compete in a Mr. America pageant, only after getting some catwalk training and talent practice.
Rather than give a blow by blow description, I'll hit the high points:
Juan Pablo – chooses baton twirling, and does it remarkably well (

+1

for hand-eye coordination,

-1

for choosing an activity done by a group ending in "ette"). A nice sign of solidarity for Robert (an early exit this season).
Chris – chooses to wear heels and walk it out. Questionable choice (

-1

), but at least he is getting a calf workout (

+1

).
Mikey T. – incredibly strong showing. In the interview portion, he says he wants his power to be "invisibility"...I didn't know he was a Clay Aiken fan! In talking about the interview, he says "When you've got it, you've got it." Pre-competition, Mikey T. is the only one who chooses to use baby oil for the show (

+1

). His talent is dancing, which then breaks down into a nice set of shoulder pushups against the wall (

+1

).
Ben – ribbon dancing, wearing clam diggers. 'Nuff said (

-1

).
Brooks – after singing a song with the ukulele, Brooks walks away and smashes the instrument. Why? Who knows. The better question is probably "why not?" (

+1

)
Kasey ends up taking the crown and sash, then gives his solo interview still wearing his trophies. Own it, brother (+1).
The evening portion of the date is an indoor pool party. Zak W., continues singing the song that he wrote for Des that he started performing at the pageant. As a guy who once bought a guitar to try to impress ladies (or, in this case, ladies who could identify the first few bars of "The Freshman" by Verve Pipe), I give Zak credit (+1). Des must have, too, since he gets the group date rose.
Chris reads some poetry that he wrote for Des (+1). Gentlemen: it never hurts to express your thoughts through the stroke of a pen. My go to is the 5-7-5 haiku. The acoustics of the room for this scene deserve one of its own: "Opening my heart / Poolside poetry reading / Where is the boom mic?"
James got the second one on one. The night of the group date, he chooses to drink wine, eat chocolate covered strawberries, and take a bubble bath. It's the simple things. We learn that he has a rose tattoo on his bicep. How long has this guy been thinking about being on this show? Great confidence, though (+1).
Des takes James on a helicopter tour over the Jersey Shore with the Red Cross to see the devastation of Hurricane Sandy. Des and James give up the evening portion of their date to a couple who lost their home in the fall-out (+1), going instead went to a dive bar to eat pizza and drank beer.
At the night cocktail party, Bryden's not sure if he wants to stick around, but ultimately decides he does. Michael G. tells Des the reasons he likes her by spelling out her name in an acrostic. Who knew there were so many wordsmiths among the contestants?
Zack K. gets sent home. And then there were eleven.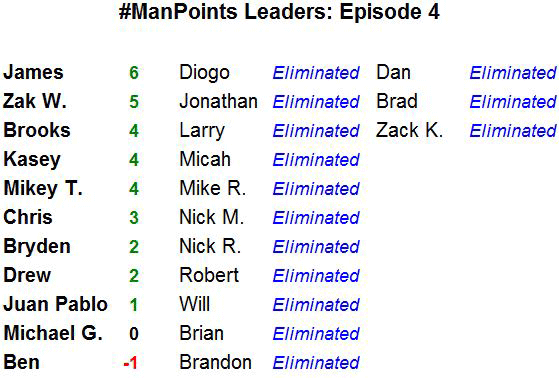 Previous Episode Recaps:
Episode 01 - Episode 02 - Episode 03