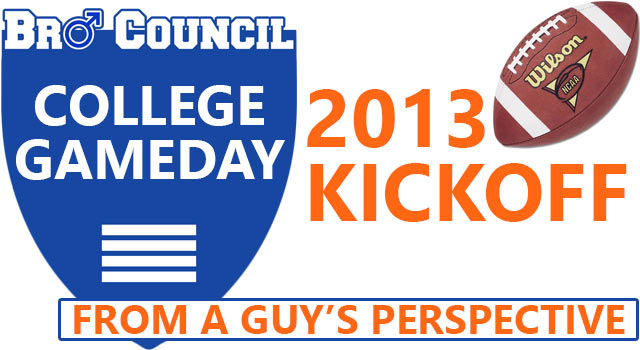 We hope you enjoyed the start to the NCAA college football season, but in case you don't have a great gameplan for your viewing day, Pat has compiled a tactical plan to help guide you through 16 hours of the the best football around. Gear up, it's gameday!
8:00 am:
Get up. You're an adult and should be out of bed already. Or in some cases just getting in from a late night. Don't bother with breakfast, get your daily exercise out of the way already.
9:30 am:

You should be in your favorite chair with a copy of your favorite college football guide (Lindy or Athlon will work just fine), and already setting the favorites if your remote provides that option. If it doesn't...buy a real remote for next week. Seriously we went over this before people.
10:00 am:
It's time for the greatest pregame show/game day ritual in all of sports. Chris, Lee, Herbie, and Des break down everything and more in that days games. You also get your last chance to adjust your first round of noon kick-offs with their picks of the day - plus a celebrity guest. This is also a great place to find out which SEC player was arrested that week, which University of Spoiled Children player is under investigation for extra benefits from boosters, and which Iowa running back is out with a knee injury. (Seriously look it up, Kirk Ferentz must have upset some witch doctor cause his RB's drop faster than the Albanian villagers in the latest Expendables flick.)
Noon:

You should be decked out in your favorite school colors and know who you are rooting for by now. Your picks should all be down and ready to go for the Big East, Big Ten, and (some of the) ACC kickoffs. This is where it all begins..buckle up! This is gameday, so if anyone wants to "talk" - it better be about the game. If you're in a relationship and your girlfriend or wife doesn't understand how big Saturdays in the fall are because she "just doesn't understand the game", then it's time to take her to a couple games and go in to full-on education mode. Once she knows the ins-and-outs she'll be right there cheering with you next season.
2:30 pm:

Halftime brings drink refills plus filling up on pizza, wings, burgers, or whatever your pleasure is.
Important Note: If you prepared well enough, it's now time for the Bro Council favorites: Tequila Meatballs, Bourbon Inside Out Burgers, and Bro Council Smoked Honey Bourbon Wings. Yes, we like bourbon, what of it? This is also the time to make any adjustments to your 3:30 - 4:00 kickoffs.

4:00 pm:

By now, any last second heroics are done with the early games, and your $EC, Big 12, Pac 12 games are underway. This is where you can start to curse Nick Saban as well as Steve Spurrier and his womans golf visor (but you do have to admit that he is entertaining. Oh, and you can't forget to question the PAC 12 as well. Things like: which USC player is getting the new car this week? Or which of the 200 uniform combos will the Oregon ducks be wearing?
7:00 pm:

You should be rewinding all the early action on one of Highlight shows, but wait! It's not over yet...this is also one of the likely places to find the second best team of announcers Brad Nessler and Todd Blackledge. These two could just as easily be the ESPN / ABC top crew. Trust me, even if your team isn't playing you will want to watch because you will be entertained, especially in this era of hack announcer teams that make you want to pierce your ear drums. Plus, Todd's "Taste of the Town" is a cool feature they do for any of you who travel and need a local joint with great food.
8:00 pm:

WHOOOOOA NELLY!!!! Its time for the Gameday crew's Pick of the Week for the evening game. This is also the typical time to enjoy a game called by one of the best crews today - Brent Musberger and Kirk Herbstreit. Awards are great, but these two are this generations Keith Jackson. Keith was probably the greatest college football announcer on network TV ever. If it was the "game of the week" he was there, just like these two now.
11:30 pm:

Go back and re-read the 2:30 and 7:00 segments. Food, DVR, repeat. Food, DVR, repeat.
Midnight:

NOT SO FAST MY FRIEND! There is still a late night PAC 12 or WAC game getting started under the lights. By this time you're watching some fun-n-gun style of offense with the quarterback just tossing the ball everywhere right? High scoring offenses? How can you even think about sleeping!
2:00 am:

Congratulations, you made it, it's the final gun. The highlight shows are wrapping up all the games now, and you're comparing your picks with the actual scores. It's time to start thinking about who you're talking smack to in the morning, and where you are making adjustments in next weeks picks. 
Well done, guys. Well done.