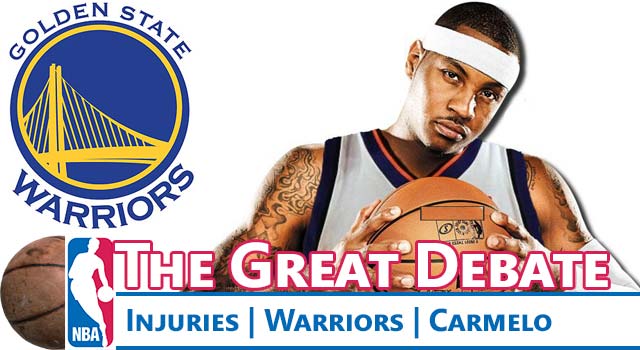 This is a recurring NBA conversation covering current events, history, and views, all from Matt Truck (@BroTruck) and Dan Quarterly (@DanQuarterly).
Matt Truck: Wow what a hiatus for this article. Two and a half weeks, a few major NBA injuries, one playoff podcast, and a few first round series sweeps later, we're back, America! Before we touch on the playoffs again, let's hit through the injuries a little bit. I guess it probably makes sense to start with Kobe chronologically. As you know, I'm not a huge Kobe guy. That being said, when he went down at the end of the regular season, I was really troubled. I think I've long take for granted how good it is having him in the league, and despite being a Laker detractor, the realization that he may be done (unlikely for him given his competitive spirit), or at least a shell of himself, is really tough to grapple with.
Dan Quarterly: I couldn't believe it either. But only Kobe could turn an Achilles tear into another mark on his legacy. Instead of being wheel-chaired off the floor like Paul Pierce or Dwyane Wade, or carried off like LeBron James post-charlie horse in last year's Finals, Kobe got up, hit both free throws, and walked off of the court.
I'm not a Laker fan nor am I really a real Kobe guy either, but I AM a fan of the dying breed that Kobe is a part of (actually, the breed that he is the poster boy of).
I'm sure that Kobe will be back and will be effective again. He may not be a 25+ point player or a slasher, but he could very well come back and average 18 points as a jump shooter and possibly further his new role as facilitator. Plus, Kobe Bryant would never even consider going out because of an injury.
What I was hopeful of was that in Kobe's absence Dwight would show up. Four games later, that hope was left unfulfilled.
MT: The point about Kobe being a facilitator is an interesting one for debate. I've long had the view that there is no way that Kobe would every want to play second fiddle to anyone ever again. He'd retire before he did that, because I think he has a view on NBA history where, even if he got a 6th ring that way, it wouldn't be "his", and so it's hard for him to want that.
Is Kobe Bryant a great "second option" now? On the surface, you'd say "Of course! A top 10 all time player and smooth as butter mid-range shooter, who wouldn't benefit from that?" But I think the question is really, really interesting, and not at all an easy "Yes".
Kobe is as alpha male as they come. With guys like that, do they really ever take a back seat? I'd argue no. The Dwayne Wade comparison is about as close of a proxy as we can get, but even he's not that same Kobe level of "I eat first".
But the Dwayne Wade scenario is the exact one that makes this debate interesting. If Kobe comes back, he'll need another dominant scorer who he (a) trusts; and (b) can work with. I suppose that makes Dwight Howard a perfect fit for LA post-Kobe return on part (b). I'm not so sure about part (a). I think that it may end up not playing out so well, even if Dwight does re-sign in LA.
DQ: Could I have ever envisioned Kobe in his first or second prime (could we call this year his third or just an extension of his second?) being a "second option" as you call it? Probably not. But after the all-star break, I think that Kobe realized in the second half of the season that he can't rough up all his teammates like he has Pau Gasol in the past. His team wasn't very headstrong (see Dwight Howard) nor is it as talented as other Western foes (see Everyone Other than Dwight Howard and Two Oft-Injured Foreign-Born Vets).
So to answer the debate of if I could ever see Kobe as a facilitator/second option, I'd say yes. To answer the question of will Kobe come back and me a difference maker, I'd bet my life on it. Kobe is a good passer and as of late he's a willing passer. And Kobe can shoot. But ultimately, Kobe Bryant plays with his heart and his will before he plays with his athletic ability.
One final thing that I don't like that you said is that Kobe needs another dominant scorer when he comes back. I agree that that's true, but it's almost as if you said that as a knock at Kobe. In today's NBA, every superstar needs another dominant scorer in order to contend. (On that note: What Dirk did in 2011 has to be the most impressive individual run we've seen since Jordan or maybe Shaq in the early 2000s. DIRK DIDN'T HAVE ANOTHER ALL-STAR LET ALONE ANOTHER SUPERSTAR!!!!) Your boy LeBron James has not one but two of the league's best dozen players. Does LeBron win a championship with the supporting cast Kobe has this year? If you say yes, consider James' inability to win a title in year one with the Heat.
MT: My comment about another dominant scorer wasn't meant to be a knock on Kobe at all. My point is basically that Kobe will be more or less an above average jump shooter if/when he comes back, and the odds of him being back up to speed may take at least a full year. I'm operating under the assumption that his ability to get to the hole and trips to the line will diminish sizably. That's why I think he needs another player who will command sufficient respect to make the challenges with an aging, rehabing frame a bit more palatable.
Kobe Bryant or not, it'll take time to get his sea legs again. It's human nature. Best case scenario he's a different degree of normal some point next season. Worst case scenario he's in his own head and it takes longer than that. By that point, he'd be 36 years old, with tons of NBA miles on his body.
Look, I'm not saying he can't do it. He's probably a great test case for someone who can. But if the Lakers are truly making a heavy push for LeBron in the summer of 2014, (which, by the way, is silly from a basketball perspective – why go to the West when you can dominate the East for the next half decade?) I can be pretty sure that the Lakers front office has sizable doubts about longevity. Granted, that's not exactly an earth shattering point, but at some point Father Time beats Kobe, correct? Unfortunately, his friend Mr. Achilles may be helping that win get a bit easier.
DQ: Now to a contender, and a still shocking injury: Russell Westbrook. It's a shame for OKC and for the competitive balance of the NBA. And while a lot of people think it's good for KD to show that it's his team, I'm sure he'd much rather be paired with his All-NBA teammate.
I watched the first Westbrook-less OKC-Houston game, and what I saw in Kevin Durant was a player who was laboring until exhaustion to get a shot up because the Rocket's game plan in the second half appeared to be "Don't let Durant touch the ball by any means necessary." So that left Durant draped with double- and triple-teams, playing 47 minutes and 28 seconds, with no other player on his team with the ability to create his own shot.
I don't think it's fair to evaluate Durant as a "complete player and leader" during this stretch. I watched KD, and I saw a guy go for 41 and 14 with tired legs in the fourth because he knew he was OKC's only shot at beating an 8 seed who was trailing by 26.
MT: The playoffs either just got more interesting or less. I think the answer is "both". Unfortunately for Russell Westbrook, a torn lateral meniscus required surgery and a rehab process. For a guy who has NEVER missed a game, that's a huge deal. For an OKC team that is probably the only real perceived threat to beat the Heat this year, this is utterly crushing.
Round 1 became more interesting, because now Houston may have a viable shot at taking this series into 6 or 7 game territory. They've shown the ability to hang with OKC for stretches, and the lack of Westbrook sure helps their chances.
Round 1 also becomes more interesting because we see how Kevin Durant has developed as a player. As a younger player, the team showed constant development over time. With him as the only go-to guy, what happens now? I wish I could say they easily close the door in Round 1, but I'm not so sure. And I'm also happy about that as a non-ashamed Rockets fan.
The West now loses their best chance at beating Miami in my opinion (which, as noted in our podcast, was already slim at best). It also opens the door to a variety of teams who may come out of that conference. I'm actually more excited for these playoffs now, strangely, because of the element of the unknown being unearthed.
DQ: Again I don't think it's fair to evaluate KD right now because not only is he the sole chance at scoring over 25 points on that team, but he plays in a loaded Western Conference. This isn't the old Eastern Conference where the offensively-deficient Pistons were the big dog. This is a conference where the 8 seed would probably be considered the 3rd or 4th best team in the East.
So with this situation, I pity Durant. But I couldn't be any more excited to see how he does respond and perform and how far he can carry his overrated supporting cast.
In other news, Steph Curry has been the best player in the playoffs, hands down. How realistic is it that he leads the Warriors without David Lee to the Finals? And is he the best combo guard in the league? He can go for 30 and 10 any night, he's the best shooter in the Association and he doesn't have a selfish bone in his body.

MT: Is it reasonable for me to say that he is maybe among the last player in collegiate basketball who we could look at and say "Wow, this guy can get his own shot whenever he wants and is lethal with the slightest space. This guy is definitely an NBA guard that could average a double double with points and assists at some point in his career"?
Maybe that's hyperbole, but honestly I feel like college basketball has gotten worse and I can't trust my eyes any more. If Golden State gets hot like that, yeah they'd be unbeatable. Based on my mean reversion views, though, they did take a beating like that from Houston earlier this year. Getting rid of Monte Ellis was the best thing for that team. Just look at the Bucks. Steve Kerr made the great point that they're a better team when only one guard is on the floor. Golden State has a great nucleus to grow with. #Bigthings
DQ: If I can brag for two seconds, on my old/other blog The CalfMuscle (shameless plug) in my preseason predictions (in which a said it's impossible for a player like Dwight to mess up a team with a pit bull like Kobe hence I had the Lakers winning it all) I said that the Warriors would start their rise this season. I truly believe they have. Steph Curry is on his way to being a player who could be the best scorer on a title contender and they have a coach that guys would love to play for. As you know, I'm still very high on the Nuggets, but watching some of these games, the Warriors inability to miss and their confidence put Denver in one of those No Matter What We Do We Can't Close This Gap situations.
Last question: Are you done downplaying Melo? He's on another planet right now.
MT: I want to save this for the next podcast, but suffice it to say that until he beats Miami, I'm out. Let me be clear: Carmelo, Durant, and LeBron are the 3 most efficient scorers in the NBA, in that order, when Carmelo is going. NOW, when Carmelo is NOT going, he drops unbelievably far down the list, and it's a much bigger divergence between where Durant and LeBron drop to when they struggle.
To me, Melo is too much of a ball-stopper. I literally cannot watch the Knicks' offense when he stalls. Melo to the high post at elbow-extended on off-ball movement, a reverse side ball swing, then feed it to Melo with 14 seconds left on the shot clock. Jab step, ball movement in hands, jab step, pump fake, dribble, dribble, then either fadeaway or trying to draw contact.
When it works, the argument you're making is fine and I don't argue. But it doesn't always work and it doesn't seem like he plays with the system the same way that Durant and LeBron do. Now, to be fair, you're right in that Melo has no one else so he has to do that. But let me just say that even if he had a Westbrook or a Wade, I'm not sure that it looks that much different.
Round five of the debate is over. Check out the other debates below:

Round One (Jordan vs. Everyone)||Round Two (Heat, Celtics, and the PG) || Is The Eastern Conference Weak? || Knicks and Kobe