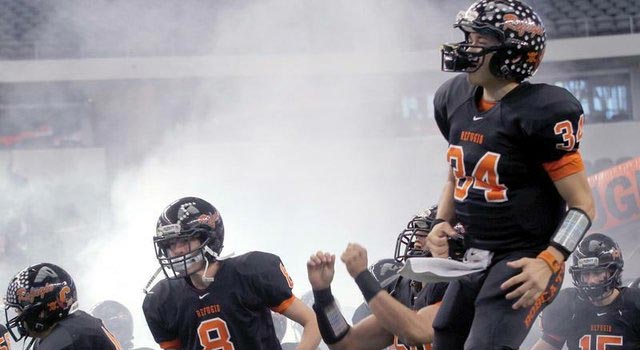 The High School craziness just keeps coming this year. A couple of weeks ago we featured a RB from Oregon who put up Xbox-like numbers in a game, and just last week we posted about a QB from Ohio who threw for the craziest touchdown we have ever seen in a High School game. Apparently the boys down in Texas just want to remind everyone that there is a reason Friday Night Lights was based in Dillon, TX. If you are a football fan then you probably know how crazy they are in Texas about their high school football, but if not just take a look at the $60 million high school stadium to get an idea of their passion.
So back to the task at hand, big props to Corpus Christie Jr. QB Travis Quintanilla who led a 80-0 beating of Taft High School by going 13 for 15 with 383 yards passing. That's a great passer efficiency rating, but the amazing part of it is that 10 of those 13 passes found the end zone. Yes, Quintanilla threw 10 TD passes to 4 different receivers.
Since there is no video from the game yet, we'll substitute the hardest high school football hit I could find on YouTube instead. Enjoy.
[Source - Yahoo]