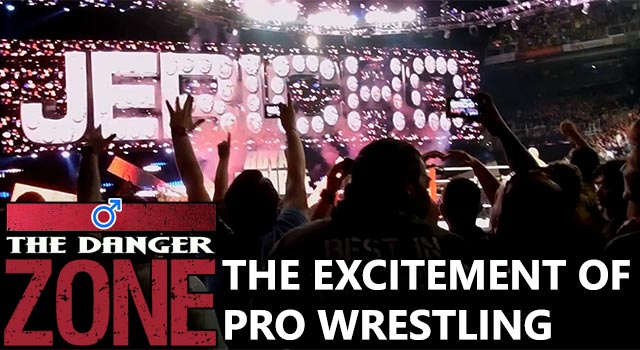 WWE recently hosted it's annual Royal Rumble pay-per-view which featured The Rock's return to the ring in which he defeated the longest reigning modern day champion CM Punk for the WWE Championship.
The match that sets this pay-per-view apart from other WWE events though is the Royal Rumble match itself, which is based on the classic Battle Royal match. The rules are pretty simple: several wrestlers enter the ring to battle in a giant brawl. The only way to eliminate your opponents is by tossing them over the top rope and having both of their feet touch the floor. The winner of the event is the last person to be eliminated.
WWE differs from the classic Battle Royal by adding a few stipulations: the thirty contestants do not enter the ring at the same time, the order entry is selected by a lottery, and every 90-120 seconds a new wrestler enters after the initial two are sent to the ring. Plus, the winner of the match gets a guaranteed title shot at Wrestlemania. Bonus!
It's a fun event to watch, and WWE always does a good job at throwing some surprises into the match. Usually this includes older wrestlers that have been retired for several years making a one-night comeback. They always get a great reaction from the crowd, but recently a lot of the surprises have been ruined by people posting on the internet before the match. Let's be honest, when men that look like these guys start walking around the local airport nearest the Royal Rumble arena it's bound to draw some attention:

This year featured one big surprise that no one saw coming though: the return of Chris Jericho. Jericho has been wrestling for almost 23 years now and recently has been taking some time off to tour with his band, Fozzy. He's an entertainer, an athlete, a comedian, and most importantly he is beloved by the WWE fans. So when he was announced as the surprise #2 entrant at US Airways Center in Phoenix, Arizona the crowd exploded from the excitement.
There are a lof of negative things people like to point out about WWE and professional wrestling in general, but you can't deny the excitement and entertainment that people get out of the product. Yes, there are a lot of aspects about WWE that are pre-determined, but the same thing happens in movies and television shows and we don't complain about that. WWE has over 60 people who play some very interesting characters. It's entertainment, it's well done, and the audience loves it.
The thing that sets WWE apart in the entertainment world and takes it to another level is the excitement that it brings out in people, especially at the live events. That's something that television and movies do not have, and can't have because of the format. So the next time you start mocking professional wrestling check out this video from the crowd during Chris Jericho's return at the Royal Rumble. You'll never see excitement like this from an episode of Big Bang Theory: