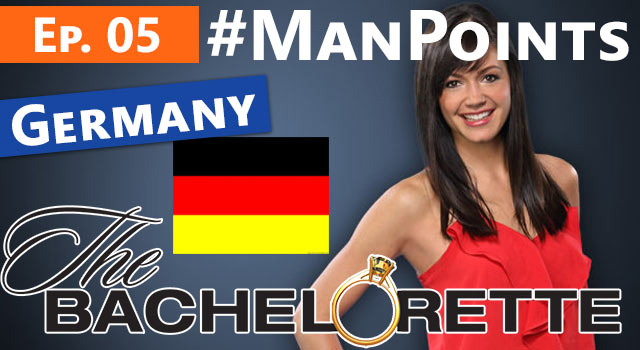 The continuing series commenting on ABC's The Bachelorette from a man's point of view. Our own Matt Truck (@BroTruck) watches the show with his wife and awards points based on many factors, all of which test whether or not the act on the show is "Bro Council, Approved." Each positive "manly" act gets a +, while - points are deducted for things that aren't as flattering to your manhood. You can check out the ground rules here.
This week, viewers traveled with Des and the Bros to Munich, Germany. In what appears to be coordinated packing, all the guys get off the subway system wearing multi-colored zip up hoodies. Well, all except for one: Mikey T. goes straight Grease-style, making John Travolta proud with the leather jacket. Nailed it (+1).
Chris gets the first one-on-one date in the city. Des and Chris walk around, having a map but lacking functional knowledge of German. They find their way into a clothing shop, where Chris slips into some lederhosen for Des. Time to show off that quad work! (+1) Chris then is seen skipping through the town square carrying a canvas shopping bag. I hit on this point last season with Sean: as a married man, I'll vouch for it being manly to carry your woman's purchases around for her (+1), but we at Bro Council cannot support the skipping (-1).
During the date, Bryden comes and interrupts, telling Des that his feelings aren't progressing fast enough and it's time for him to leave. Chris handles the situation gracefully, comforting her in her time of need (+1). The evening portion of the date is dinner in a palace, followed by more dancing during a private concert with Matt White. Chris reads Des more poetry he wrote for her on the plane ride across the pond. Where did this 6' 5" chap learn to get his Robert Frost on? I like to think it was in the back of a bus traveling between games (Chris was a minor league pitcher in what looks like the Cubs' farm system.) Cubs win.
Kasey, Juan Pablo, James, Zak W., Brooks, Mikey T., and Drew are picked for the group date. The guys meet Des for a gondola ride up to the top of German mountains. What follows is a great machismo scene of one-upsmanship as the guys take turns yodeling. Who won? Who cares...we did. (+1 to all). Des must have called the guys in advance, because everyone was wearing Ray Bans. Everyone except for Zak W., that is. Zak's choice was aviators. Top Gun, anyone (+1)?
Next comes sledding down the highest peak in Germany. On the way down, Drew knocks Des off her sled after she wipes out, but makes sure to ask if she's okay, feeling apologetic (+1). Des doesn't seem to mind. Midway through the ride down, a snowball fight breaks out, during which James tackles Des with form that would make Ray Lewis weep.
Des takes the guys to an igloo to talk and relax. Zak W. takes off his jacket in the igloo afterward, sits down and rolls up his sleeves. Who needs Under Armour or a gortex jacket anyway? (+1) Another great moment for Zak W. comes when he interrupts Des & Mikey T.'s production of a fleet of mini snowmen, as he calmly stands behind them with an all-out yodel. If you've got it, flaunt it. (+1).
The next date is the infamous two-on-one. Michael G. and Ben are picked, which is the Bachelorette equivalent of bringing the "Bad Boy" Pistons and Jordan's Bulls around a table to break bread. The date starts with each guy trying to one-up each other during conversation on a park bench, which made me want to mute the show to turn off the awkwardness. Des must've felt it too, as she takes the guys to do the polar bear plunge. Michael G. comes out of the dressing area wearing the belt of his robe as a headband. Why not? (+1). As they're about to jump, Des tells the guys that they'll actually be going on a "hot tug", which is basically a hot tub boat. I want one. More awkward conversation.
At the night dinner portion, it gets even worse. I'm uncomfortable watching this. Scratch that. I'm uncomfortable writing about it. Suffice it to say that Michael G. cross-examines Ben at the dinner table. As someone very close to an attorney, arguments with them are terrifying. Ben walks out rather than let it enflame (+1). Surprisingly, Ben gets sent home.
In a scene back at the hotel, Drew, Kasey, Brooks, and Chris plot to out James for talking about using the show as a "stepping stone" to what's next. They want to tell Des. What I'd love is for the tape to be rolled here to know if it's actually true or not. There's camera's running all the time, can't a reader get a challenge flag? As a side note, I can't help but think that Drew, Kasey, Brooks, and Chris strangely look like they could be a great boy band. I'd put them in the "boy band starting 5" with *NSYNC, Backstreet Boys, New Kids on the Block, and 98 Degrees.
Des arrives at the cocktail party for her first one-on-one sit-down convo with Chris Harrison. Des feels so good about where she's at with the guys that she doesn't want a cocktail party, foiling the Boy Band's plans for opportunity to talk to Des.
Mikey T. gets sent home. Big shout out to Mikey T., though, as he hooked us up with an article retweet, and provided us some great moments during his run.
Big move for Zak W. this week, taking the lead from James. This is getting good.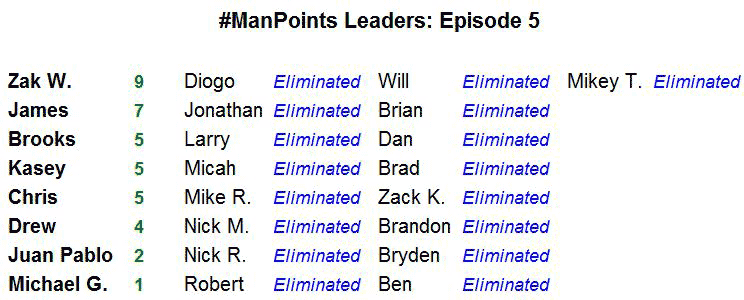 Previous Episode Recaps:
Episode 01 - Episode 02 - Episode 03 - Episode 04