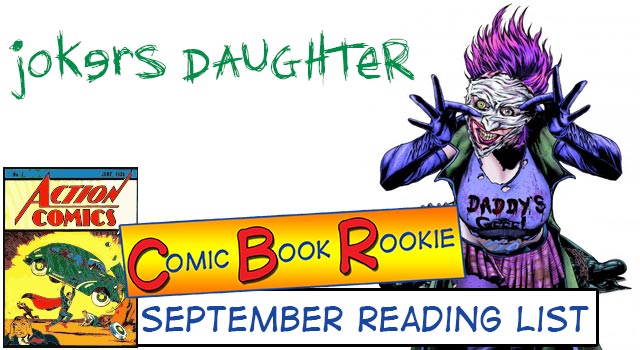 It's the last Friday of the month and that means another Comic Book Rookie month in review. So let's not waste time, and jump right into the huge month DC Comics just had with not only a new title but also their special "villain's month."
I would love to see the sales numbers at DC because every shop I was in or talked to sold out each Wednesday for the special issues. If you found a spare issue or two in the afternoon you were lucky. Pull back the layers and we'll call it as we see it; it was a great money-making scheme by DC. Now, I love DC Comics but, sadly, a lot of these issues were a waste of time. Don't get me wrong, there was some good that came of it. The Joker had an amusing story of him stealing a baby gorilla from the zoo and training it to be his partner. There were some really great stories that are tied into story arcs already in progress, both of the Aquaman titles, Black Manta, and Ocean Master had ties to Forever Evil that we will get to, as well as the current Aquaman series which we will talk a lot about in the next two months due to some huge news from DC about the titles future. The Riddler was another great title that tied directly into the Batman: Zero Year. I, for one, loved this take on him as it was a well needed story to show just how calculated and deranged of a villain he is. Edward Nigma really hasn't been seen as that, well at least since Jim Carrey ruined him in the atrocity they called a Batman movie.

Now Back to Forever Evil. When we left the Justice League titles, they had just finished the Trinity Wars arc, and it had ended with an entry to another dimension, where the "Crime Syndicate" arrived on Earth to take over. It is one of the most intriguing new titles they have had in a while, and a fresh take on the DC Universe. The Crime Syndicate has been seen before in the some of "Crisis" titles, but this adaption written by the legend Geoff Johns has a sense of pure evil that the others really haven't. You're left with Lex Luthor asking, "where is Superman?" The Bane issue of Batman #23.4 touches upon this Forever Evil title, but deals with Bane and a lot of other criminals breaking out of Arkham, again, not much of a great story but more of a prequel if you will, that will open up into a mini-series starting next month called Arkham Wars. Those of you who have played the game Batman: Arkham City will appreciate this series, as it will have that type of story line to it.
Now, possibly the most talked about title was last weeks release of the "Joker's Daughter." This was the most over-hyped of them all and, although it wasn't a bad story, when it's sold out before it hits most stores and is being sold on eBay for $150? That's a little much. The story had nothing to do with The Joker except the skin mask he lost in the water during the Death in the Family story of Batman surfaces, and a young girl finds and wears it. I had really hoped for a new origins story that our favorite psychopath had a family after all.

The other big new release was probably my favorite; Lobo. Lobo fans have been waiting for "the main man" for years; he has had some bit spots here and there, and even was a downloadable character in the new game Injustice: Gods Among Us. He has always been a big, brawny, foul-mouthed, cigar smoking badass. Well, wouldn't you know they changed the image, and fan-boys everywhere went berserk. The slimmed down, more athletic looking Lobo is portrayed as a more skillful killer than the brute he has been in the past. He is smuggling cargo in return for information, when he finds the imposter Lobo is hiding on Earth, and that we haven't met the real Lobo "yet." This ending is hopeful news for us fans, especially since Geoff Johns is stepping down from Aquaman after issue 25. He hasn't released his plans yet, but did comment that it would be big and great news. Speculation, at least here, is that with the Lobo popularity and also Shazam from the Justice League titles, that we may see GJ man the helms of one of these titles.
We also saw the much-anticipated Star Wars from the original screenplays. True Star Wars fans will like it for what it is; George Lucas's original idea for the trilogy. But I, for one, will say that I'm very glad it worked out how it did. I don't see the casual fan or new fan to the Star Wars world falling in love like we did as kids.
And finally, we have another first this month. With todays technology, digital comics are a great medium for smaller titles to get out to the public on a smaller budget. Plus, for some who just want to read the stories anywhere with out having to tote around boxes of issues, apps like Comixology are great. Comixology is probably my personal favorite, just for the ease of use across platforms such as your smartphone, tablet, and even a Mac or PC. We had the pleasure of co-creators Brian Winkeler and Robert Wilson IV reach out to us about a great title they work on called Knuckleheads.

Knuckleheads follow roommates Trevor K. Trevinski and Lance Powers after an extremely hung over Trevor is visited by aliens and given the Crystal Fist. It's a weapon that this lazy 20-something only uses to cheat at video games or if he is stealing cable. That's the MO until one day these best friends are confronted with a giant monster who invades their city. Trevs laziness is tested as Lance has to coax him into helping the city (and damsel) in distress. I literally laughed out loud reading this title. The Bromance/comedic smart-mouth quips that the best friends fire back and worth are from a world I can relate to, and have seen first hand from my friends. It just seems very familiar. OK, maybe not the monster part, unless you count my ex-girlfriend. The only other comic I have ever laughed at was a couple of the Deadpool special titles, so if that tells you anything, it's that this is a great title and should be in print each month. Until then, make sure you download your copies for a mere .99 cents. You cant pass these up, right?
Stayed tuned as next month we detail the 10th anniversary of The Walking Dead, as Image will bring us two issues in a bi-weekly format over 6 months for the "all-out war" story arc. There's also new titles Damien: Son of Batman and a brand new monthly from a great writer Ed Brubaker, for you fans of spy thrillers, called Velvet.
Thanks for reading, and we'll see you next month! Feel free to check out our past issues here: