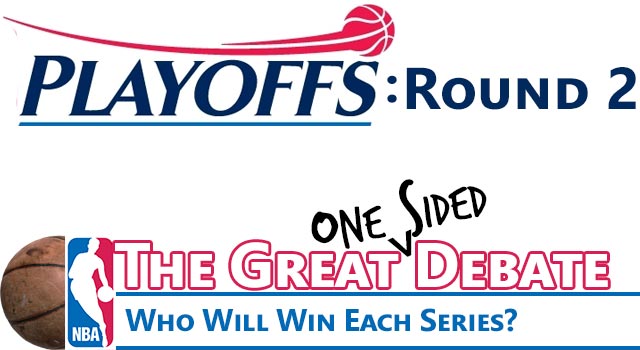 This is a recurring NBA conversation covering current events, history, and views, all from Matt Truck (@BroTruck) and Dan Quarterly (@DanQuarterly).
No @DanQuarterly this week. Just me and my thoughts on the four second round series before us.
While I can't take too much from the "feeling out" games of a series (1/2) here's what I learned from each of the conference semifinals series (and some statements I believe are factual):
Grizzlies/Thunder:
(1) OKC is going to have to shoot better than 41% from the field if they want to win this series. Yes, they took game 1, but the only way they're going to beat Memphis is if their shooters stroke the jumpers. Before OKC fans get too excited, Durant might just wear out.
(2) Ibaka and Perkins are in for a LONG 7 games. ZBo is an offensive savant, and Marc Gasol plays both ends of the floor phenomenally. Ibaka's athleticism isn't enough to overcome elite basketball IQ for the Memphis bigs, and Perkins' offensive game isn't productive enough to make a difference.
Prediction: Grizzlies in 6
Pacers/Knicks:
(1) For Carmelo to get out of the East, he needs to go through Jeff Green, Paul George, and then (most likely) LeBron. Three elite defenders that make him work. He will wear down quickly.
(2) Raymond Felton needs to have more touches than JR Smith. Better things happen when Felton has the rock.
(3) I'm starting to be convinced that I was right when I said the Knicks got hot two weeks too early. In a "grind-it-out" game, I like the Pacers. Hibbert can match up to Chandler, the Pacers' backcourt is solid on the defensive end, and I'm not sure the Knicks have an answer for David West.
Prediction: Pacers in 6
Bulls/Heat:
(1) I have the feeling every game is going to be either a down-to-the-last minute war (game 1) or a blowout by the Heat (game 2). Is this the best prep for Miami to get ready for the Finals, or would the Pacers be better?
(2) LeBron changed his free throw routine. It now looks like Jordan's. That'll be interesting if he's in a pressure situation. Kind of a strange time to change free-throw routines, no?
(3) Jimmy Butler is one of my new favorite players to watch (maybe I'm biased, as I picked him as my East Breakout Player in our NBA podcast a few weeks ago).
(4) Derrick Rose's return would be a total mistake in this series. By the time he gets up to speed, the series is over. Got to hand it to Thibs for that game 1 win, though.
Prediction: Heat in 5
Spurs/Warriors:
(1) The fact that we on the east coast have to watch only the eastern games at 7 PM is a crime. I get it -- West Coasters need to be home too. Hey, they have the weather, AND they get Monday Night Football on early. Why can't we play both Western Series games one night so that I can see the upstart Warriors against the savvy vets?
(2) Game 1's collapse by the Warriors may have been the "lights are too bright" moment. On athleticism and explosiveness, the Warriors win this series without question. When we consider basketball IQ, though, San Antonio is WAY too tough to beat 5 times in a series (which, for GS to win the series now, would essentially have to happen because GS essentially "beat" San Antonio up to the closing points of the 4th quarter).
(3) Steph Curry is the big winner of the playoffs so far. Either that or Chandler Parsons as he heads into a big deal post next season.
Prediction: Spurs in 5
Check out our normal debates below:

Round One (Jordan vs. Everyone)||Round Two (Heat, Celtics, and the PG) || Is The Eastern Conference Weak? || Knicks and Kobe