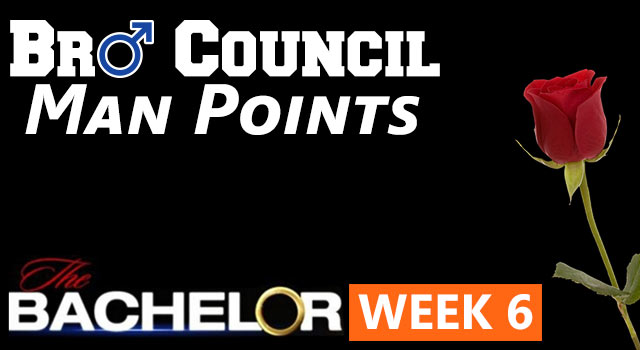 The continuing series commenting on ABC's The Bachelor from a man's point of view. Our own Matt Truck watches the show with his wife and awards points based on many factors, all of which test whether or not the act on the show is "Bro Council, Approved." Each positive "manly" act gets a +1, while points are deducted for things that aren't as flattering to your manhood.

This week, Sean takes the final six women to St. Croix. Normally, the bachelor travels solo, but Sean calls for an exception here, flying into the area with the women on a sea-plane. Who needs made up TV rules anyway? As we often compare today's athletes to the all time greats in sports, in Bachelor lore bending the rules harkens back to Brad Womack, who once uttered the phrase "I don't care about the rules right now, I care about Emily" to justify his flying in the face of contractual codes of conduct. If this isn't the parallel to LeBron's "48 special" playoff performance in Detroit being compared to Jordan in his heyday, then I don't know what is (+1).
AshLee, Tierra, and Leslie all get one-on-one dates this week, while Catherine, Des, and Lindsay get the group dates.
Honestly, all three one-on-one dates were relatively uneventful in the man points department, but some common themes did emerge. Two separate times, Sean asks girls on the one-on-ones if they want to go run into the water. Talk about focus – Sean is looking for love and in a beautiful resort location, yet all he can think about is getting his post dinner interval work in. Brilliant. (+2). Sean also reminds us of his health consciousness by taking Leslie to some form of fruit garden, making sure to point out the avocados. If I had to guess, Sean's the type of cat that refuels with some avocado spreads post workout, and is bringing the women into his training regimen. (+1)
The group date was fantastically scripted and nearly perfectly executed. The day begins for the women with a 4:45 AM wakeup call, camera crew and Sean's personal polaroids included. Sean says he wants to see the women without makeup on, and brings a camera to revisit the game film later. (Social norms – who needs them? +1). Sean and the women drive to the east side of the island, and their geographic location makes them the first people in the US to see the sunrise that day. Take notes, gents. (+1)
He tells the girls that the day is going to end by watching the sunset on the west side of the island, with a road trip in between. What is it about men that makes us just like to drive around? (+1). Interim stops include lunch and playing in a tree house (boys are men, too; +1). While at the tree house, has Des push him on the swing (-1). They make it to the other side of the island in time for some water sporting, but Sean fails to realize that the selected location blocks them from seeing the sun at all. As my dad always told me, "Measure twice, cut once." (-2)
After a confrontation, Tierra is inconsolably crying. When Sean walks in and sits down, his response is the manliest one that I know from personal experience: absolute terror and complete paralysis (+2). Nothing stops me in my tracks quite like when I see my wife's lip start to quiver.
Tierra and Leslie are sent home. And then there were four.
Week Total: +7. Season Total: +63
Check Out The Previous Weeks Here:
Week One - Week Two - Week Three - Week Four - Week Five